Investigation into VIM Airlines embezzlement case extended until late March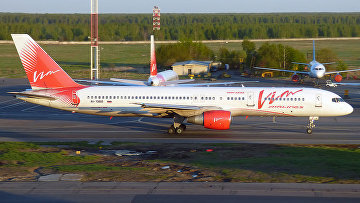 11:42 23/11/2017
MOSCOW, November 23 (RAPSI) – Investigation into the case over embezzlement at VIM Airlines has been extended until March 25, 2018, an investigator has said in Moscow's Basmanny District Court.
VIM Airlines CEO and chief accountant, Alexander Kochnev and Yekaterina Panteleyeva, are defendants in the case.
According to investigators, employees of the VIM Airlines continued to sell tickets to clients despite being aware that the airline was not able to transfer passengers because there were not enough funds to buy fuel. Investigators believe that the employees embezzled more than one million rubles ($17,000).
Co-owners of VIM Airlines Rashid and Svetlana Mursekayevs fled Russia and are currently residing abroad, the press-release reads. Investigators took measure to locate them as well.
Later, a criminal case has been launched over premeditated bankruptcy of VIM Airlines.
Investigators believe that certain top managers and owners of the air carrier intentionally made losing bargains in 2016 and 2017 including those aimed at siphoning of assets abroad. The deals led to enormous financial outlay and undoubtedly resulted in the company's failure to pay debts to creditors in full.