Sentence of unauthorized March 26 rally participant reduced by 6 months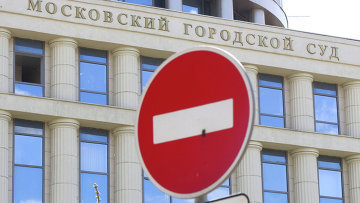 17:42 20/11/2017
MOSCOW, November 20 (RAPSI, Nikolay Merkulov) – The Moscow City Court on Monday reduced the sentence of Alexey Politikov, a participant of the unauthorized March 26 rally in Moscow, from 2 to 1.5 years in prison, his lawyer Sergey Badamshin told RAPSI.
Politikov was convicted and sentenced in October. He was found guilty of using force against a representative of authority. The defendant pleaded guilty.
The Tverskoy District Court of Moscow found that Politikov attacked a police officer during the rally by grabbing him and trying to throw him on the ground while kicking the officer in the process.
According to police, about 500 people were arrested on March 26 during the unauthorized rally. Overall number of people present in the area at the time was estimated at as high as 8,000 people.
Three participants of the rally have been already sentenced for the use of force against police officers to prison terms ranging from 1.5 to 4 years in prison. One more man has received 8 months in a penal colony settlement. Later, the 4-year sentence given to Andrey Kosykh was reduced by 4 months.
The Russian opposition politician Alexey Navalny arrested during the rally claimed that Moscow's authorities refused to greenlight the rally in the city's center and proposed alternative areas only a day before it was to take place. Navalny said that in this case Russian legislation allows organizers to hold an event at the area, which was listed first.