Moscow court refuses to seize property of VIM Airlines on request of Hong Kong firm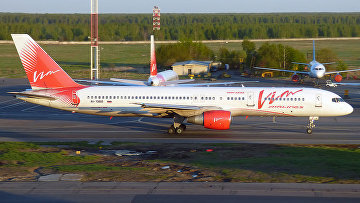 15:15 03/11/2017
MOSCOW, November 3 (RAPSI) – The Moscow Commercial Court has dismissed a motion filed by Aviation Service (HK) Limited, a company registered in Hong Kong, seeking to seize property of VIM Airlines, the court's documents read on Friday.
This motion was lodged as part of a lawsuit on recovery of a 293-million-ruble (about $5.1 million) debt from the airline.
The applicant seeks to arrest the accounts of Vim Airlines in a bank, seize its mortgaged property as well as prohibit it from making deals with officially registered real estate. According to the applicant, the defendant may be bankrupt.
The court, however, believes that Aviation Service (HK) Limited did not provide sufficient evidence proving need for adoption of interim measures.
On October 17, a criminal case was launched over premeditated bankruptcy of VIM Airlines.
Investigators believe that certain top managers and owners of the air carrier intentionally made losing bargains in 2016 and 2017 including those aimed at siphoning of assets abroad. The deals led to enormous financial outlay and undoubtedly resulted in the company's failure to pay debts to creditors in full.
Earlier, probe was opened into VIM Airlines employees over alleged embezzlement.
According to investigators, employees of the VIM Airlines continued to sell tickets to clients despite being aware that the airline was not able to transfer passengers because there were not enough funds to buy fuel. Investigators believe that the employees embezzled more than one million rubles ($17,000).
In late September, the Investigative Committee official representative Svetlana Petrenko told RAPSI that investigative authorities took measures to recover damage caused by employees of the airline as part of the notorious embezzlement case.
VIM Airlines CEO and chief accountant, Alexander Kochnev and Yekaterina Panteleyeva, have been arrested as part of the case. Co-owners of VIM Airlines Rashid Mursekayev and Svetlana Mursekayeva fled Russia and are currently residing abroad, according to investigators.
On November 1, the High Court of Ireland issued temporary orders against three aviation firms linked to Mursekayev and appointed a receiver of their shares.