Russian junior sergeant's sentence for justifying terrorism takes effect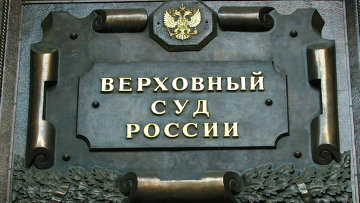 17:37 28/09/2017
MOSCOW, September 28 (RAPSI, Nikolay Merkulov) – The Supreme Court of Russia on Thursday upheld a 3-year term in penal colony settlement given to junior sergeant Murad Shakhbazov for justifying terrorism, RAPSI correspondent reports from the courtroom.
The sentence therefore became effective.
In July 2015, Shakhbazov during his military service in the Republic of Abkhazia spoke in support of the Islamic State (ISIS) terrorist organization banned in Russia in the presence of three other servicemen, according to prosecutors.
Defense lawyer for the junior sergeant Vladislav Khan said that testimony from one of his colleagues contradicts the expert findings. The examination found that there were calls for terrorism. However, the witness later changed his story in court, the attorney said. This indicates that case papers are inconsistent with actual facts, Khan added.
The Islamic State, an organization which is prohibited in Russia, is currently one of the major threats to global security. Over three years, these terrorists have managed to seize large areas of Iraq and Syria. Currently, various forces combat the organization in both countries with battle for Iraqi Mosul as one of the most crucial directions.