Producer arrested in absentia in theater director embezzlement case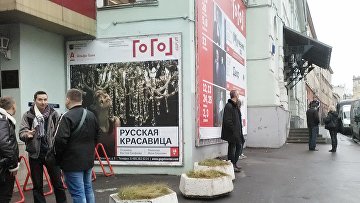 15:56 28/09/2017
MOSCOW, September 28 (RAPSI, Yelizaveta Ponomareva) – The Basmanny District Court of Moscow has arrested producer Yekaterina Voronova in absentia as part of a 68-million-ruble ($1.1 million) embezzlement case involving the Gogol Center theater director Kirill Serebrennikov, the court's spokesperson Yunona Tsareva told RAPSI on Thursday.
Reportedly, Voronova was an executive producer of A Midsummer Night's Dream theater performance expected to be staged in framework of realization of the Platforma project. However, the performance has not been staged yet.
Serebrennikov was arrested in late August and then placed under house arrest. Investigators believe that he organized embezzlement of budget money. The defendant denied wrongdoing.
According to investigators, Serebrennikov developed the Platforma project for promotion of art in 2011 and received allocated funds of 214 million rubles (about $3.6 million) from the Ministry of Culture in 2011-2014.
Investigators claim that Serebrennikov created Seventh Studio stage company to actualize the project and invited former head of the company Yury Itin, ex- general producer Alexey Malobrodsky, and former chief accountant Nina Maslyayeva, among others, into organization.
Allegedly, Itin, Malobrodsky, and Maslyayeva were falsifying data for the Platforma project's plans in 2011-2014 on request of the theater director. This data was provided to the Ministry of Culture as the rationale for financing from the state budget.
Earlier, Maslyayeva has testified against Serebrennikov. She said that Serebrennikov, Malobrodsky and Itin organized embezzlement of money allocated for a cultural event. Serebrennikov and Malobrodsky cashed the money with the assistance of Maslyayeva. The woman also said that she entered falsified data in financial reports.
On May 23, police raided the Gogol Center as a part of investigation into the case. Searches have been also conducted in Serebrennikov's place of residence.