Moscow court to review recovery of $35,500 from Navalny in Kirovles case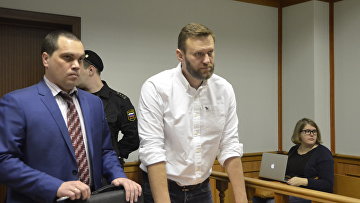 12:38 11/09/2017
MOSCOW, September 11 (RAPSI) – The Moscow City Court has set review of a lower court's ruling to collect 2.1 million rubles ($35,500) from Russian opposition politician Alexey Navalny and two other persons found guilty of embezzlement in Kirovles case, for September 14, the court's press-service told RAPSI on Monday.
On July 18, Moscow's Nikulinsky District Court ordered Navalny, ex-director of Vyatka Timber Company Pyotr Ofitserov and Kirovles ex-CEO Vyacheslav Opalyov to pay 2.1 million rubles (about $35,500) to the Kirovles timber company.
The Kirovles company has filed a claim demanding to collect more than 16 million rubles in damages (about $270,400 at the current exchange rate) from the defendants. The court therefore granted the lawsuit in part.
On February 8, Navalny was convicted of organizing embezzlement of 16 million rubles at the Kirovles timber company for the second time and received a 5-year suspended sentence, while another defendant in the case, Pyotr Ofitserov, received a 4-year suspended sentence. Additionally, they were fined 500,000 rubles ($8,500) each.
According to investigators, while serving on a voluntary basis as an adviser to the Kirov Region governor Navalny organized the theft of over 10,000 cubic meters of timber from Kirovles company between May and September 2009.
Investigators claimed that Ofitserov, then Director of Vyatka Timber Company, and Kirovles CEO Opalyov were involved in the scheme. Proceedings against Opalyov were treated as a separated criminal case after he admitted his guilt.
Navalny was given a five-year suspended sentence for embezzlement at the Kirovles timber company in July 2013. Later, Moscow's Lyublinsky District Court increased a probation period for him to 5.5 years. Ofitserov received a four-year suspended sentence.
In February 2016, the European Court of Human Rights (ECHR) held that the applicants' right to a fair trial had been violated and ordered Russian authorities to compensate Navalny with €48,000 of legal costs and Ofitserov with €22,000. Additionally, Russia was obliged by court to pay 8,000 euro each in damages.
In November 2016, the Supreme Court overturned sentences against Navalny and Ofitserov in Kirovles embezzlement case and sent it for retrial. The court delivered the ruling taking into consideration the judgment of the European Court of Human Rights (ECHR).