Russian Supreme Court orders review of Transaero's dispute with Rosaviation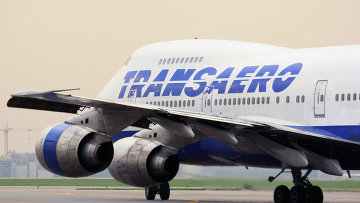 13:42 14/08/2017
MOSCOW, August 14 (RAPSI) – The Supreme Court of Russia has ruled to review a legal dispute between Transaero airline and the Federal Air Transport Agency (Rosaviation) for the second time, the court's ruling reads on Monday.
The court has granted Transaero's appeal against rulings of lower courts. It has overruled a lower court's decision made on August 11, 2016, dismissing the airline's claim seeking to collect 595 million rubles ($7.6 million) of government grants from Rosaviation. The case was returned to the Moscow Commercial Court.
In its lawsuit, Transaero demanded 595 million rubles ($7.6 mln) from Rosaviation, which, as the plaintiff alleged, refused to transfer compensation due to the airline for socially important carriage of passengers in Russia's Far East regions. The defendant maintained that Transaero failed to present certain documents needed to proceed its request for compensation.
In August 2016, a commercial court dismissed the airline's claim in full. The court ruled that according to the data provided by the Russian Pension Fund the defendant was in debt with regard to obligatory payments to the state budget, what precluded the transfer of subsidies.
Transaero found itself unable to pay its debts estimated to make 250 billion rubles (about $4 billion) and had to stop its flights in October 2015.