Russian Supreme Court upholds sentence for preparation of terror attack in cinema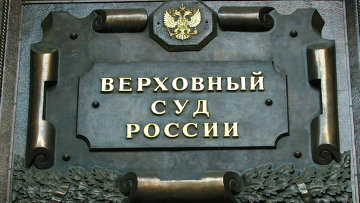 16:53 17/05/2017
MOSCOW, May 17 (RAPSI, Oleg Sivozhelezov) – The Supreme Court has upheld the sentence for fifteen persons found guilty of preparing terror attack in "Kirgizia" cinema located in Moscow, RAPSI learnt from the court's press-service on Wednesday.
The court's Military Commission has dismissed an appeal filed against the sentences issued by the Moscow District Military Court on April 22, 2016. The ruling came into force.
Earlier, the Moscow Prosecutor's Office reported that in April 2016 several Russian citizens and one citizen of Uzbekistan received prison terms ranging from 11 to 13 years.
The defendants in the case were found guilty of preparing a terrorist attack, unlawfully obtaining, possession and transportation of weapons, ammunition, explosives as part of an organized criminal group as well as illegal construction and modification of weapons as part of the group.
The court found that a member of At-Takfir Val-Khidzra extremist organization, Tazhib Makhmudov, organized a criminal group and enrolled other people into joining. Makhmudov's plan involved a terror attack in "Kirgizia" cinema in early January 2014. Members of the criminal group were arrested on November 26, 2013.