Former Inkasbank top managers appeal recovery of $105.7 million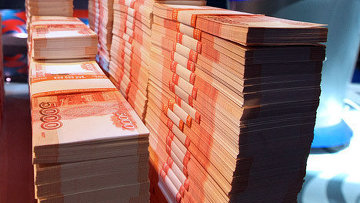 12:10 12/04/2017
MOSCOW, April 12 (RAPSI) – Two former top managers of Inkasbank have filed appeals against recovery of over 6 billion rubles (about $105.7 million) from them, according to the North-Western District Commercial Court's records.
Ex-board chairperson Tatyana Lebedeva and her deputy Lyudmila Samorukova have challenged the November 3 ruling of the St. Petersburg and Leningrad Region Commercial Court and the March 2 ruling of an appeals court ordering them to pay out 6 billion rubles and 284.1 million rubles respectively.
Earlier, ex-chairman of Inkasbank Alexander Gitelson filed an appeal with the North-Western District Commercial Court against recovery of 5.06 billion rubles.
The courts held that actions committed by Gitelson, Lebedeva and Samorukova between February 1, 2007 and February 19, 2009 had caused a 7.49-billion-ruble damage ($115 million) to Inkasbank and led to its bankruptcy.
In July 2014, the St. Petersburg and Leningrad Region Commercial Court, upon request of the Deposit Insurance Agency, the bankrupt bank's insolvency administrator, charged Gitelson and two other former top managers of Inkasbank with subsidiary liability. In December 2014, a court of appeals upheld the ruling. The ex-bank managers appealed the rulings in a court of cassation.
In May 2015, the Commercial Court of North-West District reversed the lower courts' rulings and ordered reconsideration of the case.
Inkasbank was declared bankrupt in May 2009. The bank's administrator conducted an inquiry into the circumstances of the bank's insolvency. As a result, the Russian Federal Security Service received a motion to open a criminal case (premeditated bankruptcy) against the bank's former management.
Gitelson was arrested in Austria in April 2013 and extradited to Russia in December.
In March 2015, Gitelson was convicted and sentenced to three years for embezzling over 2 billion rubles ($30.7 million) in public funds from Inkasbank. A court in St. Petersburg also fined the banker 500,000 rubles ($7,700).
In April 2011, Moscow's Meshchansky District Court sentenced Gitelson in absentia to five years in prison and a 1 million ruble ($15,300) fine for embezzling 495 million rubles ($7.6million) from his acquaintance, MP Adnan Muzykayev.
Later, the court ruled to combine punishments for both crimes and extended prison sentence to five years.