Two alleged accomplices of St. Petersburg metro bombing suspect put in jail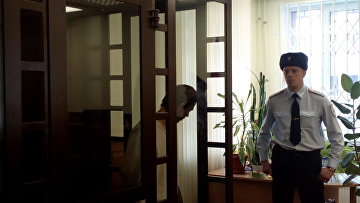 17:49 07/04/2017
MOSCOW/ST. PETERSBURG, April 7 (RAPSI) - Two men suspected of implication in explosion in the St. Petersburg metro, that left 14 people dead, were put in detention on Friday, RAPSI correspondents reported from courts.
Moscow's Basmanny District Court ordered the detention of Sodik Ortikov, 38, a citizen of Tajikistan living in the Moscow Region, until June 3. The Nevsky District Court of St. Petersburg detained a native of Uzbekistan Azamzhon Makhmudov, 23, for two months.
Ortikov is suspected of involvement in terrorist activities and illegal trafficking explosives. He has pleaded not guilty claiming that a handgun, handgun ammunition and explosives found at the place of his living did not belong to him.
The Moscow court held that alleged suicide bomber Akbarzhon Dzhalilov, born in 1995, made telephone calls to an unidentified person, who in turn was in contact with Ortikov.
In St. Petersburg investigator claimed that law enforcement officers found a homemade explosive device in apartment where suspect Makhmudov was living. According to investigator, the bomb was similar in structure to that one exploded in a train.
Earlier, the Investigative Committee's press-service announced that several suspects were arrested in relation to the blast in St. Petersburg metro: Seyfull Khakimov, Ibragibzhon Yermatov, Dilmurod Miudinov, Bakhram Yergashev, Azamzhon Makhmudov, Makhamadyusuf Mirzaalimov, Shokhista Karimova and Sodik Ortikov. Six people were arrested in St. Petersburg; two others were arrested in Moscow.
According to investigators, explosive device identical to one found at St. Petersburg's Ploshad Vosstaniya metro station as well as handguns and ammunition were found at suspects' places of residence.
On April 3, at around 2:40 PM Moscow time, an unknown device exploded in a train between St. Petersburg metro stations Technological Institute and Sennaya Ploshchad. According to the most recent information, 14 people died in the blast, over 50 were wounded.