President Putin introduces fines for failure to block sites with banned information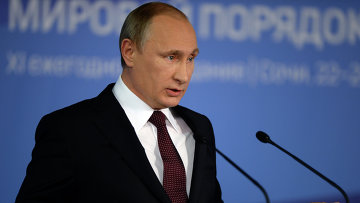 17:02 22/02/2017
MOSCOW, February 22 (RAPSI) – Russian President Vladimir Putin has signed a law introducing fines of up to 100,000 rubles (about $1,700) for Internet providers failed to restrict access to websites which distribute prohibited information, according to the official website of legal information.
The blacklist of websites was launched in Russia on November 1, 2012. The respective law envisages that websites may be blacklisted by the Federal Service for Drug Control, the Federal Service for Supervision of Consumer Protection and Welfare (suicide-related content) and the Federal Agency for Supervision of Communications, Information Technology and Mass Media (child pornography). Starting February 1, 2014, the register also includes websites promoting extremism and mass riots.
In 2016, the State Duma passed an initiative allowing to restrict access to websites containing information about potentially dangerous psychoactive substances potentially dangerous psychoactive substances. According to the legislation, providers must block web pages containing prohibited content within 24 hours after their blacklisting. However, the law did not fix penalties for failure to restrict access to prohibited information spread online.
Under the signed legislation, adjusting the Code of Administrative Offences, such violations would result in fines ranging from 3,000 to 5,000 rubles ($50-83) for officials, from 10,000 to 30,000 rubles ($167-500) for businessmen and from 50,000 to 100,000 rubles ($834-1,700) for companies.