Russian businesswoman ordered to pay $9,600 to Depardieu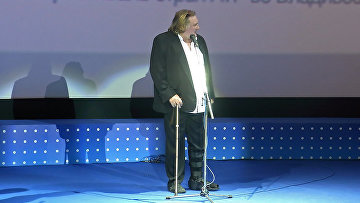 16:29 14/02/2017
MOSCOW, February 14 (RAPSI) – The Moscow Commercial Court has collected 591,000 rubles ($9,600) from businesswoman Yelena Lazareva in favor of film star Gerard Depardieu, RAPSI learnt in the court on Tuesday.
The court granted Depardieu's claim and ordered Lazareva to pay the plaintiff 500,000 rubles of unjustified enrichment plus interest.
According to the actor's lawyer, Depardieu found the transfer of 500,000 rubles ($8,100) from his account to the defendant's account allegedly as a loan. However, Depardieu and Lazareva have signed no agreements. Lazareva has not replied to the information request and further plaintiff's claim.
Earlier, Depardieu has filed three lawsuits seeking in total over 7.2 million rubles ($116,600) from Lazareva. Reportedly, audit conducted during the period from 2013 to 2015 revealed several unconfirmed transactions from the actor's account for legal services allegedly rendered him by Lazareva's firm GlavbuhAudit.
Depardieu said in late 2012 that he had decided to renounce his French citizenship ahead of the government's planned implementation of a 75 percent tax rate for the wealthy. In January 2013, he obtained a Russian passport, however, preserving his French citizenship as well. He later obtained permanent residence registration in Saransk, the capital of the Russian region of Mordovia.