Top Russian polling NGO turns to ECHR over "foreign agent" label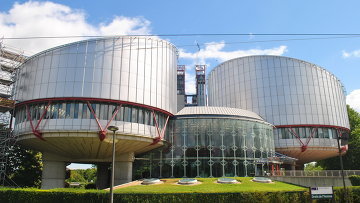 11:50 13/01/2017
MOSCOW, January 13 (RAPSI) - One of Russia's largest non-governmental organizations (NGOs), the Levada-Center, which regularly conducts sociological and market surveys, has filed an application with the European Court of Human Rights over declaring it a "foreign agent", the organization's lawyer Ilnur Sharapov told RAPSI on Friday.
The NGO complained over alleged violation of the Center's right to freedom of assembly and association as well as discrimination on grounds of sphere of activity (Articles 11 and 14 of the European Convention of Human Rights respectively).
However, the Levada-Center has not asserted claims for monetary compensation yet.
On September 6, Russia's Ministry of Justice announced that the Levada-Center had been declared a "foreign agent".
"Current situation much complicates the work of our organization," director of the Center Lev Gudkov said earlier. He stated that the "foreign agent" status, which may be interpreted as synonymous to a "spy" could prevent sociological surveys by the Center.
In October, the Moscow Tverskoy District Court fined the NGO 300,000 rubles (about $5,000) over its failure to comply with the "foreign agent" law.
Thus, the autonomous polling and analytical center was found guilty of committing an administrative offence by continuing its activities, but failing to register its "foreign agent" status with the Russian Justice Ministry.
In late November, the Zamoskvoretsky District Court of Moscow upheld the ruling on inclusion of the Levada-Center in the "foreign agents" list.
The law adopted in November 2012 requires that all NGOs engaged in political activity and receiving foreign funding register as "foreign agents".
Under the amendments to the law, which were adopted this year, political activity is linked to such fields as state-building, securing Russia's sovereignty and territorial integrity, enforcement of law, order and security, national defense, foreign policy, political system integrity, social and economic and national development of the country, regulation of rights and freedoms of man and citizen.
NGOs which are engaged in organization and holding of public events, including meetings, manifestations, demonstrations, discussions and performances would be deemed to be involved in political activity.
Moreover, those NGOs which are involved in work aimed at achieving certain results during elections or referendum, vote monitoring practices, establishment of election commissions or support of political parties would also be put on the list of those organizations which are engaged in political activity.
Levada-Center, named after famous Russian sociologist Yury Levada, is one of the largest Russian NGOs that conducts sociological and market surveys.