Construction firm's ex-manager gets 4 years for embezzlement at Vostochny Cosmodrome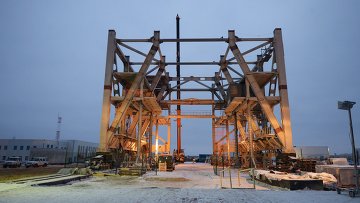 14:55 28/12/2016
MOSCOW, December 28 (RAPSI, Lyudmila Klenko) – Moscow's Meshchansky District Court on Wednesday sentenced former director general of Stroykonstruktsiya S company Anatoly Ryazanov to 4 years in prison for embezzling 1.18 billion rubles ($19.4 million) during the Vostochny Cosmodrome construction, a court representative told RAPSI.
The court also granted civil lawsuits demanding over 770 million rubles ($12.7 million) from the defendant.
Prosecutors earlier demanded 4.5 years in prison for Ryazanov.
According to investigators, in 2012-2013, Ryazanov, head of Spetsstroyservis under Spetsstroy of Russia Andrey Yartsev, Stroykonstruktsia CEO Nikolai Shkadin, his deputy Igor Novikov and another accomplice Vladimir Deniskin conspired to embezzle over 1.1 billion rubles of budget funds by purchase of steel constructions from Stroykonstruktsiya S at artificially high prices for building Vostochny Cosmodrome facilities. Real costs for the said steel constructions amounted to about 600 million rubles ($9.9 million), the Investigative Committee reported.
Ryazanov has pleaded guilty.
A criminal case against Novikov will be considered separately because he had earlier fled from investigation and had been put on the wanted list. He was placed in detention after the arrest. Later, he pleaded guilty, according to investigators.