Ex-Russian border agency head pleads not guilty in embezzlement case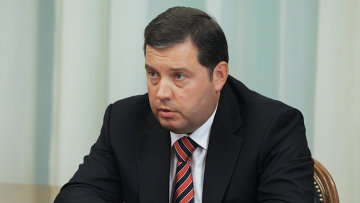 14:12 01/12/2016
MOSCOW, December 1 (RAPSI, Oleg Sivozhelezov) - The Federal Border Development Agency's ex-head Dmitry Bezdelov has pleaded not guilty to embezzlement of money allocated for the construction of a border checkpoint, his lawyer Boris Kozhemyakin told RAPSI on Thursday.
According to Kozhemyakin, Bezdelov has filed a motion seeking to join his case and a case against other employees of the Federal Border Development Agency which is also being considered by the Meshchansky District Court of Moscow. The lawyer believes that if the cases are consolidated, some disappeared documents confirming Bezdelov's innocence would be found.
Earlier, Bezdelov refused to seek asylum in Italy and intended to prove his innocence in a Russian court, the attorney added.
Bezdelov stands charged with embezzlement and organizing a criminal gang. The Meshchansky District Court began preliminary hearings in the case against the Federal Border Development Agency's ex-head on Thursday.
Investigators claim that in 2009, Bezdelov, then head of the Federal Border Development Agency, has conspired with a range of people to embezzle public funds allocated for the construction of checkpoints on the state border. From September 2009 to May 2013, they stole and laundered budget funds valued at 490 million rubles ($7.5 million).
Bezdelov resigned from his post in October 2013 after a probe revealed inappropriate use of budget funds by the agency. He was arrested in Rome in October 2014 after he had been put on the international wanted list. Italy's court of appeals upheld the decision to extradite Bezdelov to Russia in October 2015. The Supreme Court left the judgment intact.
A criminal case against Bezdelov's seven alleged accomplices is presently being considered by court. Two other defendants have been already sentenced to long prison terms. One more defendant absconded during the trial and was put on the federal wanted list.