Russian Minister Ulyukayev placed under house arrest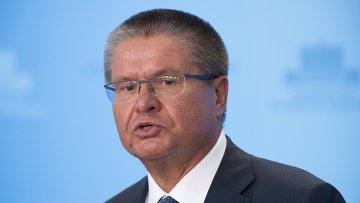 19:20 15/11/2016
MOSCOW, November 15 (RAPSI) – Moscow's Basmanny District Court placed Russian Economy Minister Alexey Ulyukayev under house arrest on request of the Investigative Committee, RAPSI reported from the courtroom on Tuesday.
Please find the full text coverage of the hearing here.
Ulyukayev is to stay under house arrest till January 15.
Investigators claim that a criminal case against Ulyukayev was launched on November 15. He stands charged with receiving bribe on Monday for a positive review of a deal that allowed state-controlled oil giant Rosneft to acquire a 50 percent share stake in mid-sized producer Bashneft.
Ulyukayev pleads not guilty. He refused to testify, but agreed to cooperate with investigators.
Presidential spokesperson Dmitry Peskov told RIA Novosti that Vladimir Putin was informed when the investigation was launched.
However, he failed to answer the question whether the situation with Ulyukayev can affect Bashneft deal.
Bashneft was controlled by the government of Russia's Bashkortostan region until 2003, when a major stake was sold to companies affiliated with Ural Rakhimov, son of the former head of Bashkortostan Murtaza Rakhimov. The company was privatized in 2009 when Russian oil-to-telecoms conglomerate AFK Sistema gained control of it.
Investigators opened a criminal case in April linked to deals with Bashneft shares in 2002 to 2009.
Rakhimov and billionaire Vladimir Yevtushenkov were implicated in the sale of Bashneft stock in 2009. Rakhimov was charged in absentia with embezzlement and money laundering, put on the international wanted list.
The Moscow Commercial Court granted in October 2014 a claim which had been filed by the Investigative Committee and ordered AFK Sistema, its subsidiary Sistema-Invest to forfeit Bashneft stock.