Investigators ask court to put Russian nationalist Demushkin under house arrest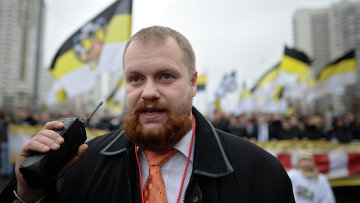 13:33 21/10/2016
MOSCOW, October 21 (RAPSI, Lyudmila Klenko) – Investigators have asked the Presnensky District Court of Moscow to put Russian nationalist Dmitry Demushkin, who is charged with inciting hatred and enmity, under house arrest, RAPSI learned from the court's press-service.
Earlier Demushkin has told RAPSI about his arrest and potential detention. He specified that these measures may be related to violation of written undertaking not to leave the place.
"I have filed a petition for a march ("Russian March" –ed.), I was arrested and I will be taken for detention in the Presnensky Court," – Demushkin said.
The Moscow City Court ruled the return of a criminal case against Russian nationalist Dmitriy Demushkin, who was accused of publishing extremist materials on the Internet, to be lawful, RAPSI learnt in the courtroom on Monday.
Therefore, the court upheld a ruling of the Moscow Nagatinsky Court, which stated that the case should be returned to the Prosecutor's Office for reinvestigation.
As Demuskin has informed RAPSI earlier, two expert assessments contradicting one another were included in the case materials.
Demushkin stands charged with inciting hatred and enmity towards, and violation of human dignity of a group of people "not ethnically Russian."
On the prosecution's insistence, the hearings were held behind closed doors.
According to the investigators, in 2011-2013 Demushkin was publishing extremist articles on one of his social network pages trying to incite hatred and enmity against a group of people.
Dmitriy Demushkin was a leader of the banned extremist groups such as "Slavic Union (SS)" and "Ethnopolitical organization "Russians".
This May, Russia's Supreme Court upheld a ruling of the Moscow City Court, which banned "The Russians" from carrying out their activities in the territory of the Russian Federation after reviewing a claim lodged by the Prosecutor's Office, supported by the Justice Ministry and the Federal Security Service (FSB). Later, Dmitry Demushkin, the movement's leader, announced its dissolution.