Russian Investigative Committee's investigator to give testimony in Nemtsov murder case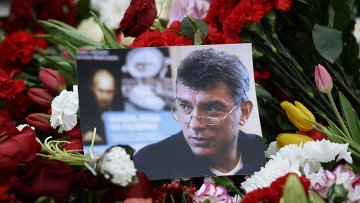 14:07 19/10/2016
MOSCOW, October 19 (RAPSI, Diana Gutsul) – The Moscow District Military Court will question a high-ranking investigator for especially important cases of the Russian Investigative Committee, Marina Molodstova as a witness in the criminal case over killing prominent opposition politician Boris Nemtsov, RAPSI learnt in the court on Wednesday.
The court has granted a motion of a prosecutor who believes that it is necessary to reveal circumstances related to a pack of bullet cases found on the crime scene as well as material evidence research protocol.
Earlier it has been reported that Deputy Chairman of the Russian Investigative Committee, Major General of Justice Igor Krasnov will testify in the case. Major General has not given his testimony yet.
The murder of Nemtsov is considered by jury trial. On September 29, the Moscow District Military Court formed a panel of jurors selecting 22 people to make 12 main and 10 reserve members to examine the case.
At the end of June, Russia's Investigative Committee reported that investigation into the case of Zaur Dadayev, Anzor Gubashev, Shadid Gubashev, Temerlan Eskerkhanov, and Khamzat Bakhayev who stand charged with a contract murder in the composition of an organized gang, and of illegal acquisition, transportation and possession of firearms, had been completed.
According to investigators, in late September 2014, Ruslan Mukhudinov, a former officer in the Chechen Interior Ministry, and some unnamed persons offered Beslan Shavanov and the five accused to murder Nemtsov for 15 million rubles ($237,500).
Nemtsov was murdered in central Moscow on the night of February 28. In the 1990s, the politician held a number of high-ranking posts in the Russian Government. In the 2000s, he joined the opposition.
Prosecution of Shavanov was dismissed in November 2015 because of his death by self-destruction in the course of his apprehending in Chechnya.
Investigation into Mukhudinov, the alleged mastermind behind this high-profile murder, who has been on the international wanted list since 2015 and other unidentified persons, is still going on.