Russian priest accused of pedophilia to be extradited from Israel soon - investigators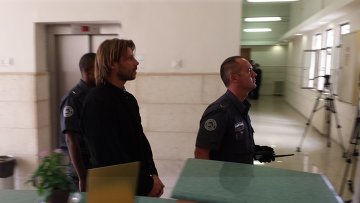 17:04 07/09/2016
MOSCOW, September 7 (RAPSI, Diana Gutsul) – Russian investigators are carrying out extradition of Russian priest Gleb Grozovsky, who stands charged in absentia with sexual abuse of children, from Israel to Russia, a representative of the St. Petersburg Main Investigative Directorate told RAPSI on Tuesday.
"A probe into the criminal case against Gleb Grozovsky, 37, accused in absentia of committing… violent sex crimes is underway. At present the extradition of the charged offender from Israel to Moscow is being carried out; after he is brought to St. Petersburg, he will be subjected to appropriate investigative actions," the Directorate's representative said.
According to Russian investigators, Grozovsky committed sex crimes against several minors in 2011 and 2013.
In 2013, he fled to Israel where he applied for citizenship. However, his application was dismissed.
In April 2014, Grozovsky was put on the international wanted list. Israeli police arrested him in September. In January 2015, a court in Jerusalem ruled that the priest should be extradited to Russia pursuant to the European Convention on Extradition.
The ruling was appealed, but rejected. In April, the Justice Minister signed an order on Grozovsky's extradition. Nevertheless, according to defense, the charges against Grozovsky are politically motivated and the Convention provisions could not apply to him.