Removal of candidate who concealed his criminal record from party roster upheld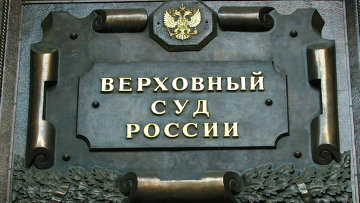 18:15 02/09/2016
MOSCOW, September 2 (RAPSI, Oleg Sivozhelezov) – The Supreme Court upheld the decision of the Central Electoral Board and the Party of Pensioners for Justice Central Council to remove Yevgeny Korotenko, who concealed his criminal record, from the federal party roster set for the upcoming election of the lower house of the Russian Parliament, RAPSI correspondent reports from the courtroom on Friday.
Korotenko's administrative claim challenging the decision of the Electoral Board and party's Central Council was dismissed.
The nominee insisted that he was not duly notified about the meeting of the party's Central Council where the respective decision had been taken, and that it was contrary to the Russia's Constitutional Court's legal opinion that the removal of candidates from the registered roster on the sole ground of political expediency was not admissible.
Nevertheless, the Central Electoral Board's representative noted that the Board had no powers to check the motivation and make legal evaluation of the procedure a party employed to remove a nominee from its roster, so it had to uphold a duly made and executed party's decision. Moreover, according to the representative, the Board had no information that Korotenko had challenged the decision in a competent court.
In his turn, the Party's representative argued that the disputed decision was made not on the grounds of political expediency, but because the nominee concealed his criminal record pointing out that the candidates who disclosed their convictions were not expelled.
The representatives of the both defendants agreed that the plaintiff failed to choose an appropriate way to defend his allegedly violated passive electoral rights seeking to overturn the party's Central Council decision in the Supreme Court.