Murder of journalist Politkovskaya could be ordered from UK – official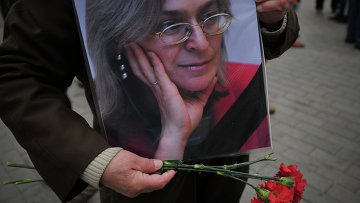 16:48 01/09/2016
MOSCOW, September 1 (RAPSI, Lyudmila Klenko) – Russian investigators have reason to believe that an order for killing journalist Anna Politkovskaya was made from London, the Investigative Committee representative Vladimir Markin wrote in his book entitled "The most famous crimes of the 21st century in Russia".
Businessman Boris Berezovsky "began considering Politkovskaya as his enemy, and she was best suited for a role of "sacred sacrifice"…That's why investigators have reason to consider that the order came from London," Markin's book presented to journalists on Thursday during a news conference speaks.
On October 7, 2006, Anna Politkovskaya, a crusading reporter with the independent newspaper Novaya Gazeta, was shot and killed at the age of 48 in the elevator of her central Moscow apartment building. The murder has been linked to her coverage of human rights abuses in Chechnya.
In June 2014, the Moscow City Court convicted five people for Politkovskaya's murder. Rustam Makhmudov and Lom-Ali Gaitukayev were sentenced to life in prison. Their accomplices, brothers Ibragim and Dzhabrail Makhmudov and former police officer Sergei Khadzhikurbanov, received 12, 14 and 20 years in a maximum security penal colony, respectively. The court also fined them 5 million rubles ($76,600) payable to the late journalist's children. In 2015, the Russian Supreme Court reduced the sentence for Dzhabrail Makhmudov to 13.5 years in prison.
Former police officer Dmitry Pavlyuchenkov who was convicted of organizing the surveillance of the journalist was sentenced to 11 years in prison. Pavlyuchenkov has requested a postponement of his sentence due to poor health. The court, however, turned down his request.