France violates rights of children in context of deportation procedures - ECHR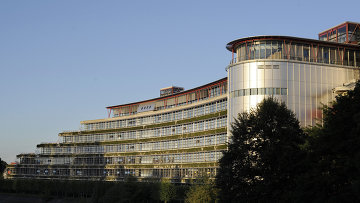 17:51 12/07/2016
MOSCOW, July 12 (RAPSI) – The European Court of Human Rights (ECHR) issued its judgements in a number of cases concerning violations of rights of underage children accompanying their parents in the context of deportation procedures from France on Tuesday.
In its press-release ECHR has presented a generalized assessment of cases relating to administrative detention of underage children together with their parents in the framework of deportation procedures from France. The Court recognized that in such cases the deprivation of liberty resulting from parents' legitimate wish not to entrust their children to third persons was in principle compliant with the domestic law. Nevertheless, the Court noted that in a precedent-setting case examined in 2012, it concluded that there had been violations of Article 3 (prohibition of inhuman or degrading treatment) of the European Convention on Human Rights (the Convention) due to the age of children, as well as the duration and conditions of their detention.
In the judgments passed on Tuesday, ECHR has noted that regardless of appropriate material conditions in certain centers, they were nevertheless a source of anxiety for young children, so only a short duration of detention in specially adapted centers could meet the requirements set by the Convention. Besides, the Court has specifically stressed that national authorities should place families with underage children in administrative detention only as the last resort and if no alternative measures were available.
In three cases examined on Tuesday, ECHR passed judgements that the rights of underage children of Russian nationals under Article 3 of the Convention were violated in France in the context of deportation procedures. With regard to all applicants, whose names were not disclosed, the Court held that compensations in amounts from 3,000 euros to 9,000 euros should be paid in respect of children on the grounds of their administrative detention. In two cases the Court also held that the rights of underage children under Article 5 (right to liberty and security; right to speedy review of the lawfulness of detention) were violated; and in one case held that there were violated rights of all applicants, including parents, under Article 8 (right to respect for private and family life) of the Convention.
In two cases ECHR also held that the interim measure by the Court – not to expel applicants – should be still in force until judgment became final or until further order (during the three-month period following a judgment's delivery, any party may request that the case be referred to the Grand Chamber of the Court), although holding that in the event of the applicants' expulsion to the Russian Federation there would be no violation under Article 3 of the Convention.