ECHR recommends France not to send Chechen deportee to Russia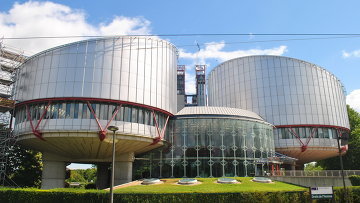 15:26 07/07/2016
MOSCOW, July 7 (RAPSI) – The European Court of Human Rights (ECHR) ruled on Thursday that the rights of a Russian national from Chechnya living in France may be violated in case he is deported to the Russian Federation after a French court dismissed his application for asylum.
The applicant, whose name is not disclosed and who is indicated as R.V. in ECHR materials, was born in 1987, and lived in the Chechen Republic until 2007. In August 2005, a friend of the applicant was killed by security forces as a member of a Chechen armed rebellion group. The applicant's name was listed in the mobile phone of this friend, what resulted in several arrests and, as alleged by R.V., threats making him to flee first to Poland and later, for the same security reasons, to France, where he has lived since 2008.
French authorities dismissed R.V.'s application for asylum he filed on arriving in France. In 2014 he was issued with an order to leave France and placed in a detention center. The decision to expel the applicant was confirmed by several French courts, last time by the Administrative Court of Appeal in May 2016.
In December 2014, ECHR indicated to the French Government not to return R.V. to the Russian Federation for the duration of the proceedings before it.
The applicant relied on Article 3 (prohibition of torture and inhuman or degrading treatment) of the European Convention on Human Rights (the Convention) alleging that if expelled, he may be exposed to a risk of treatment in breach of this Article.
ECHR held that in the event of R.V.'s removal to the Russian Federation his rights under Article 3 would be violated and, therefore, the interim measure by the Court – not to expel R.V. – should be still in force until judgment becomes final or until further order.
In its judgement, the Court specifically noted that during the three-month period following a judgment's delivery, any party may request that the case be referred to the Grand Chamber of the Court, which will hear the case and deliver a final judgment. If the referral request is refused, the Chamber judgment will become final on that day.