Vostochny Cosmodrome contractor's Board Chairman sentenced for embezzlement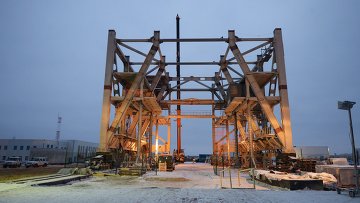 11:55 18/05/2016
MOSCOW, May 18 (RAPSI, Diana Gutsul) – A court in Ussuriysk, a town in the Primorsky Krai, has sentenced Sergei Yudin, Chairman of the board of TMK (Pacific Bridge Building Company), a former contractor in the Vostochny Cosmodrome project, to 3 years and 4 months for embezzlement, Russia's Investigative Committee reported on Wednesday.
Moreover, Yudin has been fined one million rubles ($15,500).
According to investigators, from September 2014 to April 2015 Yudin organized embezzlement by Igor Nesterenko, ex-General Director of TMK, of nearly 104.5 million rubles ($1.6 million). The defendants siphoned the embezzled money off to shell companies.
In April, Nesterenko was sentenced to 3 years and 3 months.
Former chief executive of TMK Viktor Grebnev is under investigation as well.
According to investigators, from 2012 to the fall of 2014, Grebnev knowingly signed contracts of guarantee that were unprofitable for TMK, thereby embezzling over 288 million rubles ($4.5 million). Allegedly he also signed several contracts that caused TMK over 130 million rubles ($2 million) in losses.
Earlier, TMK said it failed to pay 96 million rubles ($1.5 million) in wages to workers because of the alleged embezzlement. Investigators claim that Grebnev used the money to buy yachts and a mansion.
The construction of the space center, due to become Russia's main launch site, began in 2012. The facility is planned to be completed in 2016.