Two defendants in Vostochny Cosmodrome embezzlement case released on bail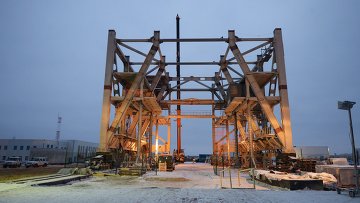 11:30 29/03/2016
MOSCOW, March 29 (RAPSI) – The Blagoveshchensk City Court has released on bail two top managers of the company Construction Alliance who stand charged with embezzlement of funds allocated for the construction of Vostochny Cosmodrome, according to the court's website.
CEO of Construction Alliance Sergei Slotnitsky was released on a 2 million ruble bail ($29,500) while Chairman of the board Andrei Ansimov was ordered to pay a 5 million ruble ($73,800) bail, the statement reads.
They are accused of embezzling over 272 million rubles ($4 million) in total allocated under two subcontract agreements for construction of a building waste recycling complex and housing facilities with needed infrastructure within the territory of the Cosodrome.
Slotnitsky and Ansimov were arrested on November 28 and later put in detention.
The construction of the space center, due to become Russia's main launch site, began in 2012. The facility is planned to be completed in 2016. The first manned mission is scheduled for 2018.