Investigation into case against ex-head of Russian penitentiary service complete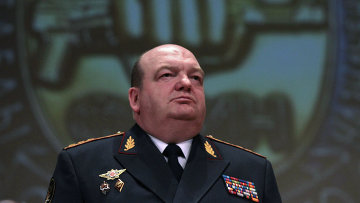 10:32 25/02/2016
MOSCOW, February 25 (RAPSI) – Investigation into the criminal case against ex-head of Russia's Federal Penitentiary Service (FSIN), Alexander Reimer, who stands charged with embezzling 3 billion rubles (about $45.4 million), has been completed, RIA Novosti reported on Thursday.
Criminal case documents now will be studied by Reimer's defense and will be reviewed by a court later.
In May, the court seized 15 million rubles ($183,300) in assets belonging to Reimer.
The probe into the case was opened after two employees of the Federal Penitentiary Service (FSIN) were detained on suspicion of extorting $2.6 million from a businessman in connection with the purchase of ankle bracelets.
Charges have been brought against Reimer, his former deputy Nikolai Krivolapov, director of FSIN's Information and Technical Support Center Viktor Opredelyonov, and the director of a private company, Nikolai Martynov.
After Reimer resigned from FSIN in 2012, a 10 billion ruble ($122 mln) fraud was uncovered at the service. Reimer has denied his guilt.
Reimer also has been charged with abuse of office.
Alexander Reimer, 57, was chief of the Interior Ministry Department in the Samara Region from April 2006 to 2009. In August 2009, he was appointed FSIN director and in 2010 promoted to the rank of Colonel-General of the Interior. He was dismissed from FSIN on June 26, 2012.