"Crossbow Coup" plotter appeals ruling to declare his book extremist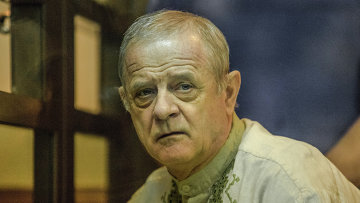 11:11 17/07/2015
MOSCOW, July 17 (RAPSI, Diana Gutsul) - Retired Russian military intelligence colonel Vladimir Kvachkov, who was convicted for attempted instigation of an armed riot, has appealed a ruling that declared his book, Who Reigns Russia, extremist, his lawyer Oksana Mikhalkina told RAPSI on Friday.
Last month, the Leninsky District Court of Penza found Kvachkov's book extremist and banned it from distribution. Two thousand copies were printed.
The lawsuit against distributing the book, which was filed by the Prosecutor's Office, claims that the book "contains words, expressions and statements of negative connotation that target a group of people that can be identified as a specific ethnicity and origin, as well as statements calling for the occupation of law enforcement offices, media and telecommunications offices.
Attorney Dmitry Lilo also told RAPSI that Kvachkov could attend the hearing via video conference. "Last year we won a trial over the same book. But this time, the prosecutor's office made a smart move and filed a motion for a closed hearing. Kvachkov was excluded from the trial. Where is the equality in this civil lawsuit? Only Kvachkov, as the author, can answer the court's questions," Lilo said.
Kvachkov, who was acquitted of charges in the attempted murder of former UES CEO Anatoly Chubais in 2005, was found guilty on February 8, 2013, of organizing an armed coup and was sentenced to 13 years in prison and one year of custodial restraint.
Later, the Supreme Court mitigated the sentence to eight years in a high security prison.
Kvachkov is thought to have masterminded plans to oust the government with a small group of followers. Kvachkov has denied all charges but during the trial defended "the right of Russian citizens to hold an uprising."
A career military officer, Kvachkov commanded a Special Forces unit in Afghanistan in 1983. In 1984, after sustaining a head injury, he was awarded the prestigious Order of the Red Star and later received the Order of Courage.