Suspects in Total CEO plane crash to remain in detention, under house arrest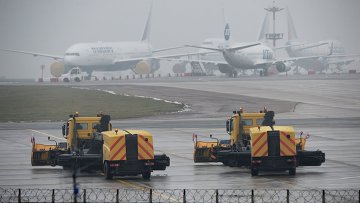 11:42 16/07/2015
MOSCOW, July 16 (RAPSI) - The Moscow City Court has extended the detention and house arrest of all the suspects in Total CEO plane crash that left four dead, RAPSI learnt in the court on Thursday.
The restrictive measure has been extended by two months upon the investigators' request. The arrests of the various defendants have been extended until September 21, 22 or 23.
Christophe de Margerie died in a plane crash at Vnukovo Airport in Moscow on October 21, 2014, when his plane's wing hit a snow plow. Among the victims were three crew members, all French citizens.
Lead airfield service engineer, Vladimir Ledenev, the driver of the snow plow, Vladimir Martynenko and air traffic controller Alexander Kruglov were detained, while traffic control intern, Svetlana Krivsun, and Airport Flight Manager Roman Dunayev were placed under house arrest. All of the defendants have been charged and will soon be able to review the case materials.