Vnukovo snowplow driver in Total CEO plane crash passes polygraph test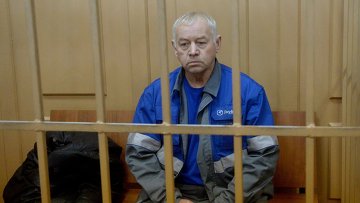 13:38 17/03/2015
MOSCOW, March 17 (RAPSI, Diana Gutsul) - Vladimir Martynenko, the driver of a snowplow involved in the plane crash that killed Total CEO Christophe de Margerie has voluntarily passed a polygraph test to prove that he was sober at the time of the accident, Martynenko's lawyer, Alexander Karabanov, told RAPSI on Tuesday.
"Speaking of earlier claims that my client was allegedly drunk during his shift, nobody has provided any expert conclusion or evidence of his being intoxicated," Karabanov said.
Martynenko agreed to cooperate with investigators, he added.
"Vladimir Martynenko is ready to plead guilty, at least in part," he said. The lawyer said his client is willing to plead guilty to reduced charges in exchange for a milder sentence. The motion was presented several days ago. There has been no response so far.
The unconditional admission of guilt is a key aspect of cooperating with the investigators. If the prosecution agrees to Martynenko's offer he can expect a sentence not exceeding two-thirds of the maximum term (currently, seven years).
Total CEO Christophe de Margerie died in the crash of his Falcon 50 private jet shortly before midnight local time (20:00 GMT) on October 20, 2014 along with three crew members, all of them French citizens. The plane, which was scheduled to depart for Paris, hit a snow removal vehicle during takeoff.
Russian authorities detained airport engineer Vladimir Ledenev, snowplow driver Vladimir Martynenko and air traffic controller Alexander Kruglov. Air traffic control trainee Svetlana Krivsun and flight supervisor Roman Dunayev were placed under house arrest.
The airport employees stand accused of violation of air traffic rules that resulted in the death of two or more people. They face up to seven years in prison each. All defendants have pled not guilty.
Russian prosecutors forwarded the case materials to their French colleagues in late January 2015.