Russian court dismisses case against opera director over Wagner's Tannhauser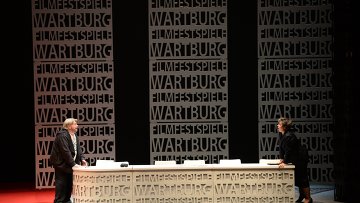 14:37 10/03/2015
MOSCOW, March 10 (RAPSI) - A court in Novosibirsk has closed the administrative case against Boris Mezdrich, director of the Novosibirsk Opera and Ballet Theater, who gave permission to stage a scandalous production by Timofei Kulyabin based on Richard Wagner's opera "Tannhäuser", RIA Novosti reports.
The court ruled that no crime had taken place.
Tannhauser received a controversial public response after Metropolitan Tikhon of Novosibirsk and Berdsk complained that the production uses religious symbols in an inappropriate way, which caused outrage among believers. The Prosecutor's Office opened administrative cases regarding the desecration of objects of religious worship against Mezdrich and Kulyabin.
This Tuesday, the Novosibirsk Central Magistrates Court continued hearing the case against Mezdrich, who allowed Kulyabin's production to be staged at the Novosibirsk Opera. His defense lawyer requested that the court dismiss the case.
The hearing against the director of the show, Timofei Kulyabin, is ongoing.
Tannhauser premiered at the Novosibirsk Opera and Ballet Theater last year. The story is set in modern times, with Tannhäuser a director filming the movie "Grotto of the Venus," which is allegedly about Jesus Christ's unknown and sinful earlier life.