Four suspects in French hostage crisis to be charged on Tuesday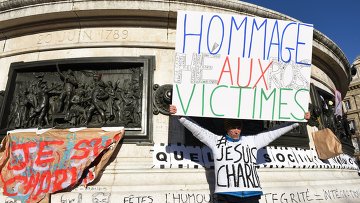 15:32 20/01/2015
MOSCOW, January 20 (RAPSI) – Paris prosecutors have formulated charges for four accomplices of Amedy Coulibaly, the man who killed four hostages in a kosher grocery in eastern Paris and will anounce them later on Tuesday, Associated Press reports.
The men in question are suspected of providing logistical support to Amedy Coulibaly. The four men, all in their 20s, will appear before an investigating judge later on Tuesday. No other details were immediately available.
No charges have been brought so far for direct involvement in the attacks of January 7-9 at the satirical weekly Charlie Hebdo, the kosher supermarket and against the police, in which 20 people were killed, including the three gunmen, who claimed allegiance to al-Qaida and the Islamic State.
On January 7, two gunmen forced their way into the editorial offices of the French satirical magazine Charlie Hebdo and opened fire, killing 12 people, including journalists, and injuring 11. The magazine has published cartoons, some of them highly offensive and derisive, of Catholic cardinals, the Pope, the leaders of various countries, including a French president, and even Jesus. But it touched a particularly painful nerve with its Prophet Muhammad cartoons.
Brothers Chérif and Saïd Kouachi, French Muslims of Algerian descent, were tracked down in Dammartin-en-Goele northeast of Paris and killed in the siege of a signage company.
On January 9, a gunman took multiple hostages at a kosher supermarket in the east of Paris. Identified as Amedy Coulibaly, the Islamist killed four hostages before the police stormed the store and released 15 people. Coulibaly died when police stormed the building.
It has been found that Amedy and his girlfriend and accomplice Hayat Boumeddiene, who is still at large, participated in the shooting of police officers near Paris on January 8, in which a policewoman was killed.