More claims filed against against troubled Russian air carrier UTair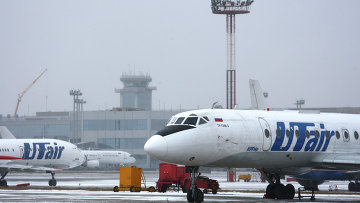 11:42 09/12/2014
MOSCOW, December 9 (RAPSI) – The Moscow Commercial Court has accepted four lawsuits filed by Alfa Bank, Russia's largest private bank, against one of Russia's top three airlines, UTair, say the court records released on Tuesday.
One of the lawsuits filed by Alfa Bank against UTair on December 8 concerns the collection of over 22 million rubles ($412,700). The court seized UTair funds under a previous $1.8 million lawsuit filed by the bank.
On December 8, the commercial court of the Khanty-Mansi Autonomous Area in western Siberia accepted a bankruptcy lawsuit filed by Avialeasing against UTair, which owes 3.5 million rubles ($65,660) to the Perm-based investment company. The airline said the lawsuit would not affect its operations.
UTair passenger traffic increased 10 percent in January-October this year at 9.1 million passengers, and international passenger traffic went up 44 percent. At the same time, it was reported that the airline has been hit by the plummeting ruble rate and a volatile market. UTair plans to reduce spending by 10 billion rubles ($187.6mln) by 2016.
UTair is negotiating debt restructuring with the banks and has asked for government assistance. As of July 2014, its short-term debt amounted to 57 billion rubles ($1.07bln) and long-term debt to 27.2 billion rubles ($510.24mln), while its revenue for the first six months of the year was only 32.8 billion rubles ($615.3mln) and net income 5.5 billion rubles ($103.2mln).