Fugitive Kazakh banker Mukhtar Ablyazov to stay in detention in France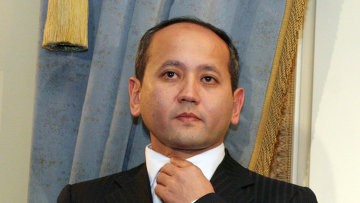 15:04 06/10/2014
MOSCOW, October 6 (RAPSI) – Bail was denied by French court for fugitive banker Mukhtar Ablyazov, wanted by Russia, Ukraine, and Kazakhstan, TASS reported on Monday.
There was no guarantee that Ablyazov would not leave the country to evade the extradition, the court held.
Ablyazov offered to pay a EUR 100,000 bail for his release on house arrest at the previous hearing on September 25 and said he was prepared to wear an electronic ankle bracelet.
Ablyazov fled to the UK after the Kazakh government acquired a stake in BTA in 2009 and the bank came under the control of its sovereign wealth fund, Samruk-Kazyna. Kazakhstan claims that Ablyazov embezzled over $6 billion. He was granted political asylum in Britain in 2011.
Ablyazov is also wanted in Russia for the alleged embezzlement of about $5 billion and in Ukraine, where he allegedly embezzled $400 million via illegal transactions.
The ex-banker was placed on Interpol's wanted list and detained in July 2013 near Cannes, France. Kazakhstan, Russia and Ukraine are all seeking the extradition of the fugitive banker. In early January 2014, a court in France's Aix-en-Provence ruled to extradite him to Russia or Ukraine, with priority given to Russia.
On April 9, 2014, the criminal chamber of Paris's Cour de Cassation, the court of final appeal for civil and criminal cases in France, ruled to block Ablyazov's extradition because of an administrative error by the court. Specifically, the ex-banker had not signed the official protocol as required.
The cassation court ordered the case to be heard again, assigning it to a court in Lyon. Ablyazov has denied all charges. His lawyers say he is being persecuted for political reasons.