Fugitive Russian mogul Polonsky's appeal turned down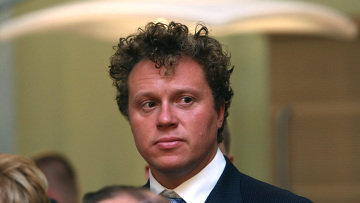 13:44 08/08/2014
MOSCOW, August 8 (RAPSI) – Tverskoy Moscow District Court of Moscow rejected an appeal filed by mogul Sergei Polonsky against the investigator's refusal to take him off the wanted list, the court told RAPSI on Friday.
Attorney Aleksandr Karabanov said in the appeal that when an APB was issued for Polonsky in July 2013, the procedure of officialy charging him was grossly violated.
Polonsky is the founder of a multipurpose corporation, Mirax Group, which has carried out large development projects, including Federation Tower in the Moscow International Business City, office buildings Mirax Plaza, Poklonnaya 11 and Admiral, condominium developments Fort Kutuzov, Kutuzovskaya Riviera, Rublyovskaya Riviera, Mirax Park, Golden Keys 1 and 2, and the Well House.
In June 2013, Russia's Interior Ministry announced that Sergei Polonsky was charged in absentia and placed on the international wanted list for the alleged embezzlement of billions of rubles from investors in the Kutuzovskaya Milya and Rublyovskaya Riviera projects.
In November 2013, he was arrested in Cambodia at Russia's request, only to be released in January 2014.
On January 13, the Tverskoy District Court of Moscow seized the stock of foreign companies owned by Polonsky, who has assessed them at $100 million. The ruling came as an injunction in the embezzlement case in which Polonsky was arrested in absentia last year.