Italian court overturns deportation ruling on Ablyazov's wife as unlawful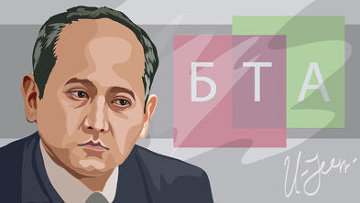 10:54 31/07/2014
ROME, July 31 (RAPSI) – Italy's Supreme Court of Cassation has ruled that the deportation of Alma Shalabayeva, the wife of the former head of BTA Bank, Mukhtar Ablyazov, to Kazakhstan was unlawful, RIA Novosti announced, citing Italian media.
Alma Shalabayeva and her six-year-old daughter Alua were deported from Italy on May 31, 2013, after a special operation to arrest her husband. The police did not find the ex-banker at a villa near Rome, which he had fled, and so detained his wife and daughter. A magistrate ordered that they be put immediately on a private jet and flown to Kazakhstan.
The Supreme Court of Cassation, which heard Shalabayeva's lawsuit against the Italian Interior Ministry and complaint against the magistrate's deportation ruling, decided that the complainant's deportation was unlawful. The court ruled that the Italian authorities violated Shalabayeva's right to protection and asylum and awarded her compensation for the unlawful police actions that infringed on her personal freedom.
The ruling provides the legal basis for a residence permit.
Shalabayeva's deportation provoked a loud political scandal, which led to a confidence vote for Interior Minister Angelino Alfano. The Interior Ministry annulled the deportation decision on Shalabayeva on July 12, 2013.
For seven months from June 1, 2013, Shalabayeva lived in Alma Ata, the capital of Kazakhstan, on a recognizance not to leave. In December, Kazakh law enforcement authorities granted Italy's request and allowed Shalabayeva and her six-year-old daughter to leave, taking her house in pledge. The Italian Embassy issued her a Schengen visa.
On April 18, 2014, a special Italian Interior Ministry commission decided to grant political refugee status to Shalabayeva and her younger daughter, Alua.
Kazakhstan claims that Mukhtar Ablyazov embezzled over $6 billion. Ablyazov and his supporters say he is being persecuted for political reasons.
Ablyazov fled to the UK after the Kazakh government acquired a stake in BTA in 2009 and the bank came under the control of its sovereign wealth fund, Samruk-Kazyna. He was granted political asylum in Britain in 2011.
Ablyazov was detained on July 31, 2013 near Cannes, France. Kazakhstan, Russia and Ukraine are all seeking the extradition of the fugitive banker. In early January 2014, a court in France's Aix-en-Provence ruled to extradite him to Russia or Ukraine, with the priority given to Russia.
On April 9, 2014, the criminal chamber of Paris's Cour de Cassation, the court of final appeal for civil and criminal cases in France, ruled to block Ablyazov's extradition because of an administrative error by the court. Specifically, the ex-banker had not signed the official protocol as required.