US military contractor detained in Kyrgyzstan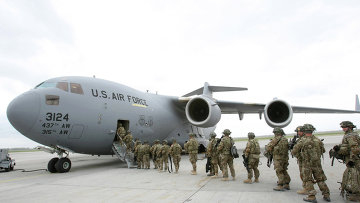 18:15 11/03/2014
BISHKEK, March 11 (RAPSI) – An employee of the US Air Force was placed in detention for a month by a Kyrgyz court after having allegedly assaulted a desk officer at the local police station, an official spokesperson for the Bishkek police told RIA Novosti on Tuesday.
Accroding to the police, on Sunday morning, a 22 year old woman said that an unknown foreigner assaulted her in downtown Bishkek, and attempted to rape her. During the arrest, the US national, Branden Cornelius, 29, Service Manager at Manas Transit Center, allegedly resisted arrest, broke the station's table, and assaulted the watch captain. The base command and US embassy were notified of his detainment.
A criminal case was initiated on charges of hooliganism and resisting arrest, and the US contractor faces 7 years in prison if convicted.
The NATO base was established in Bishkek's Manas International Airport in December 2001 in order to support the coalition forces during Operation Enduring Freedom. The agreement on the base's operations expires in July 2014.
In the 13 years during which US troops have been stationed in Kyrgyzstan , there have been several incidents involving the servicemen. In December 2006, a 46 year old driver for a company operating out of the airport was shot by base guard Zachary Hatfield. The Kyrgyz Prosecutor General's Office concluded that "Hatfield's guilt in committing murder was proven in full." He departed for the US after charges were dropped due to his position.