Russian trial against Ukrainian nationalist leader - live broadcast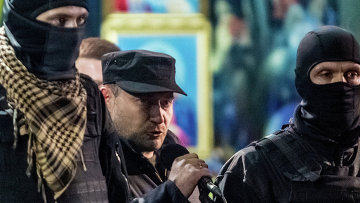 15:51 11/03/2014
MOSCOW, March 11 (RAPSI) - RAPSI is conducting a live text broadcast Wednesday of the Russian extremism proceedings against Dmitry Yarosh, a Ukrainian ultra-nationalist whose political movement the "Right Sector" played a crucial role in the Maidan protests that recently uprooted his country's leadership.
Broadcast
10:17 Well, that's all for today. Thanks for joining us and stay tuned as this courtroom battle against extremism unfolds.
10:15 In light of the information on the defendant and the case material, there can be no alternative measures taken, the judge says, with regard to the in-absentia arrest order.
10:12 Yarosh recently let his presidential ambitions be known, proclaiming his intent to take part in the Ukrainian elections that have been scheduled for May 25. He talked about the idea that his far-right political movement, the Right Sector, would eventually become a proper political party. Russian officials expressed concern about this. Russian Foreign Ministry official Konstantin Dolgov warned in a Tweet yesterday that "the de facto authorities in Kiev and its western backers need to block the road to power of neo-fascist Yarosh and his supporters."
10:10 Yarosh's arrest has been ordered in absentia.
10:01 Check out our Twitter page for updates. And as a reminder, we have a live broadcast going in Russian language at the moment too, which you can access here.
9:58 Very little is known about the enigmatic Yarosh. He's 42 and he played an active role in the riots that uprooted Ukraine's political leadership structure in recent weeks. Aside from a bout of activism during his college years, however, he has generally made a point to shun publicity.
9:55 In absentia arrest orders also allow Russian authorities greater leeway in securing the arrest of a wanted suspect who happens to be abroad while his arrest is sought, through cooperation with international law enforcement authorities and relevant bilateral agreements.
9:52 When an arrest is ordered in absentia, the order takes effect as soon as the defendant is brought into Russian custody.
9:48 We're still waiting for the decision. Meanwhile, a bit of background. In absentia arrests have actually become a quite popular form of restraint in Russia over the past couple of years. The arrests of defendants in a wide array of high-profile cases, including Hermitage Capital's William Browder and former general director of Uralkali Vladislav Baumgartner have been ordered in absentia. The list goes on.
9:41 The judge has already stepped aside to deliberate the issue.
9:39 The judge reviews documents containing information about Yarosh's possible whereabouts, and on the fact that he was placed on an international wanted list on March 5.
9:37 Yarosh's lawyer objects to this, arguing again that his client was improperly notified of the proceedings against him, and furthermore that his client's defense rights were violated insofar as he wasn't able to select his own attorney.
9:35 Prosecutors argue that an arrest warrant should be issued against Yarosh, based on concerns that he may commit more crimes.
9:32 The investigator has no concerns about Yarosh's physical health, but is unsure about his mental health. They describe the place of birth of and university attended by Yarosh, but is unsure about his marital status.
9:30 The trial is already underway. Judge Natalia Dudar is presiding over this case. Yarosh's lawyer takes issue with the fact that he is not present, arguing on behalf of his client that all possible means were not utilized to get in touch.
9:25 Good morning and welcome to RAPSI's live broadcast from Moscow's Basmanny District Court of the Russian trial in-absentia against Dmitry Yarosh. With you this morning reporting live from Basmanny District Court are Maria Gusarova, Ingrid Burke, Alexander Karpov, and Vladimir Yaduta.
Background
Yarosh who is considered to be one of the Maidan protest leaders stands accused of publicly endorsing extremism and terrorism in connection with a public appeal he is suspected of having made to North Caucasus militant commander Doku Umarov. Yarosh stands accused of asking for help with carrying out terror attacks on Russian soil.
Russian telecom regulator, Roskomnadzor, on March 3 restricted access to 13 groups within Russia's largest social network Vkontakte. According to the Prosecutor General's Office, these groups promoted the Ukrainian nationalist cells, and called for terrorist activities on Russian territory.
On March 5, Russian investigators placed Yarosh on an international wanted list. The international wanted list notification will obligate any state participating in Interpol joint efforts to detain Yarosh and prepare him for extradition to Russia.
Umarov, the self-proclaimed head of a secessionist group in the North Caucasus, has claimed responsibility for several terrorist attacks in Russia and, most recently having threatened to attack the Winter Olympics in Sochi.
In the meantime, Yarosh has vowed his willingness to take part in the upcoming presidential elections in Ukraine which are set for May.
Russia has marked the events that have unfolded in Ukraine a coup, and the armed seizure of power. President Vladimir Putin said during a press conference earlier in March that Viktor Yanukovich, who fled to Russia, remains Ukraine's legitimate president.