Russian opposition activist Razvozzhayev to remain in detention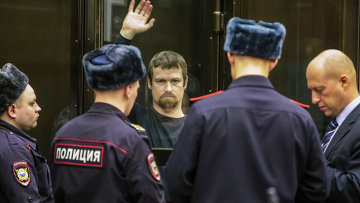 14:39 04/03/2014
MOSCOW, March 4 (RAPSI) – The Moscow City Court on Tuesday upheld the detention of activist Leonid Razvozzhayev, who faces charges of organizing riots in May 2012 along with Left Front leader Sergei Udaltsov, attorney Dmitry Agranovsky told RAPSI.
The court thus rejected a motion filed by the defense of Razvozzhayev to vary the preventive measure. The court's decision will be appealed, Agranovsky said.
In late December, the Moscow City Court sent the case against Udaltsov and Razvozzhayev to prosecutors for further investigation based on errors that had been revealed. On January 16, Udaltsov received from the investigators a clarified 768-page indictment. On February 6, the Moscow City Court refused to return for review the case against Udaltsov and Razvozzhayev.
Over 400 people were arrested and scores were injured in the protest on Bolotnaya Square that turned violent in May 2012. Dozens of participants were later charged with inciting mass riots and using violence against law enforcement representatives.
Udaltsov has been accused of organizing riots and using violence against police during a rally. In October 2012, he was ordered not to leave the city. In February 2013, he was placed under house arrest, as he allegedly violated the former ruling. He has remained under house arrest ever since.
Udaltsov and Razvozzhayev along with other opposition figures were involved in the case concerning the planning of mass riots, which was initiated after the "Anatomy of Protest 2" film was shown on the NTV broadcasting network. The film claimed that the opposition was organizing a coup using funds from abroad and showed Udaltsov and his companions allegedly talking with Georgian politician Givi Targamadze, who at the time headed Georgia's Parliamentary Defense and Security Committee, and is said to have been involved in planning the "color" revolutions in Georgia and Ukraine, as well as the mass riots in Belarus.