Russian lawyer charged with $110 mln tax return theft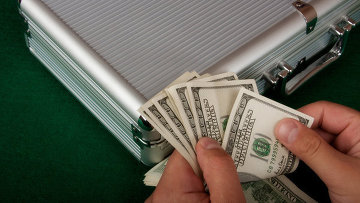 10:35 03/03/2014
MOSCOW, March 3 (RAPSI) – Investigators have charged a St. Petersburg-based attorney Alexander Shved with running an organized criminal enterprise and conspiracy to steal 4 billion rubles ($110 mln), official spokesman for the Russian Investigative Committee Vladimir Markin told the press on Monday.
According to the investigation, members of the group led by Shved have been embezzling money through fraudulent VAT tax returns since 2008. The fraudsters used more than 75 commercial entities they controlled to launder the money. The overall profit runs up to 4 billion rubles ($110 million).
In addition to Shved, five people have been detained, including 34-year-old dual US-Russian citizen Mark Bronovsky, the statement said. Bronovsky is one of the directors of the Sotrans group of companies that organized the criminal scheme. In addition, Tatyana Makarova, deputy head of St. Petersburg tax service, was detained in connection with the crime. She is currently released on bail to provide care for three undeaged children.
The investigator's statement described the group of more than 15 people as well organized and equipped, with a clear hierarchy and "corrupt connections in state authorities, law enforcement agencies and the legal system in St. Petersburg," as well as a team of specialist tax lawyers.
The suspects were detained following a series of raids at the homes of the suspects and other locations. A large volume of documents and jewelry were seized as evidence, as well as more than 30 million rubles' worth ($850,000) of securities, investigators said.
The probe and raids are continuing while the search continues for the other suspects in the case, the statement said.