Case pending against US man who warned Russian stepson may attack Sochi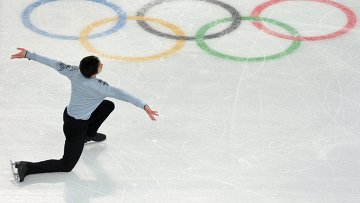 16:11 20/02/2014
MOSCOW, February 19 (RAPSI, Ingrid Burke) – Both parties moved Wednesday for an extension in the federal criminal case against an American father who stands accused of having falsely reported to the FBI that his Russian stepson was planning a terrorist attack targeting the Olympic Games in Sochi.
H. Lawrence Reinhard, III "placed a telephone call to the FBI tip line reporting an alleged attempt being made by [his stepson] to bomb the Sochi Olympics, American individuals and interests overseas, and an American Embassy in Russia, knowing such statement to be false and fictitious," as explained in an affidavit filed by FBI Special Agent Michael Kent Bantner.
Reinhard's stepson, who was not identified by name in the affidavit, is a Russian national with permanent residency in the US.
According to the affidavit, Reinhard called the FBI tip line on January 15 claiming to have overheard his stepson discussing in Russian – a language Reinhard claimed, at that point, to understand – the construction of explosives and the targeting of the Olympics in Sochi as well as "American assets overseas, especially embassies."
He claimed at that point that his stepson had already arrived in Russia, and had gone off the grid.
Reinhard mentioned that upon returning from vacation on January 9, he discovered that a safe containing handguns, money, and jewelry had gone missing from his home. Suspecting his stepson was the culprit, Reinhard had promptly contacted the local police department. Shortly thereafter, he told local police officers that his stepson had called him three times on January 10 threatening to kill Reinhard and any police officers he reached out to. An arrest warrant was issued against his stepson the same day.
A bit of research by the FBI agents involved revealed that one day prior to Reinhard's tip-line phone call, he had learned from a local police officer investigating the theft that his stepson had departed for Russia several days earlier, and that progress in the investigation would be stalled while the prime suspect was abroad. According to the affidavit, Reinhard "seemed angry" upon learning of this procedural plateau.
Another curious timing issue is that of the gap between his stepson's alleged plotting, and Rheinhard's decision to contact the FBI. While speaking with the tip-line operator, Reinhard noted that he had overheard the conversations at issue sometime between mid-November and December.
During an in-person interview conducted on January 15, Reinhard noted that his Russian language skills were not fully "comprehensive." That same day, the FBI communicated the reported threats with its legal attaché in Moscow, who in turn advised the Russian Federal Security Service (FSB) to be prepared for possible action. According to the attaché, the FSB acted immediately with plans to locate and interview the stepson, and to launch an investigation.
During another in-person interview on January 16, Reinhard began to backtrack. While reaffirming that he had heard his stepson say the words "bomb" and "Sochi" in Russian, he noted that he wasn't sure of the context of the phone call. It was at this point that his story began to unravel. He admitted that there had not been any explicitly threatening phone calls from his stepson or anyone else, and admitting to having "exaggerated" details about his stepson in order to hasten the process of locating him.
The interview concluded with Reinhard's admission that his stepson had not directly threatened to "bomb anything," but that he had heard "La Bomba" and "Sochi" during the conversation. For the record, "La Bomba" is not a Russian term.
Law enforcement officers conducting the interview pointed out to Reinhard that lying to federal agents could result in criminal responsibility.
In a second interview later that day, Reinhard claimed that his story hadn't changed since he called the tip line. The interviewing agent then produced a summary of the initial statement, which had included quotes like "bomb Sochi," "while we are at it we will [expletive] the US Embassy," and the claim that his stepson had discussed "with many different people about making bombs and hating all US interests."
Reinhard asserted at that point that the person transcribing the conversation must have failed to understand the conversation. According to the affidavit, he maintained that he did not exaggerate any of the relevant details on the FBI tip line, while simultaneously denied having used the terminology detailed in the summary report of the conversation. Meanwhile, the affidavit reproduced the relevant comments from the tip-line call verbatim.
The stepson did not actually leave the country until January 17. Prior to his departure, he was interviewed in the airport by federal law enforcement agents. According to the affidavit, he was cooperative, denied his stepfather's allegations of theft, and no contraband turned up when a search of his luggage was carried out. He denied having discussed bombs or the Olympics in the context described by Reinhard. He explained that he was going to Russia to visit his sick grandfather, and planned to return afterward as he owns a company in Pennsylvania. He added that he held no ill will toward the US.
According to the affidavit, the stepson "advised that his stepfather dislikes him and that they have an acrimonious relationship."
Reinhard later indicated to law enforcement officials that he may have "had a few drinks" before calling the tip line, and eventually stated that he had gotten drunk before the call.
On February 4, a criminal complaint was filed against Reinhard, asserting two charges related to the conveyance of false information. He was arrested and charged two days later.
On February 6, he was released on bail in the amount of $100,000, secured by $5,000 cash. The release order requires him to attend mental health services, noting that such had been deemed necessary. He was ordered as well to submit to random drug testing, as well as drug and alcohol treatment. His release was made conditional on a variety of other factors as well, including travel restrictions.
The court found during a hearing Wednesday that probable cause had been established to support his arrest.
According to an extension motion filed jointly by the defense and prosecution Wednesday, both sides have moved for a 60-day extension for the filing of an indictment in the case. According to the motion, Reinhard has asked for additional time to consider the option of a non-trial disposition. The prosecution supported this idea, asserting that a non-trial disposition would serve the public interst by means a a more efficient allocation of judicial resources.