Tsarnaev's "betrayal" of the US contributed to death penalty decision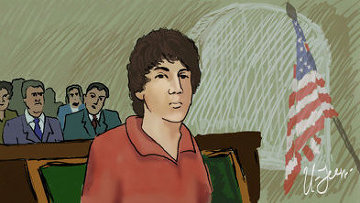 13:45 31/01/2014
MOSCOW, January 31 (RAPSI, Ingrid Burke) – Boston Marathon bombing suspect Dzhokhar Tsarnaev's "betrayal of the United States" after having obtained citizenship in the country is among the factors that would justify capital punishment if he is convicted, according to a notice of intent to pursue the death penalty filed Thursday by US prosecutors.
In addition to asserting various statutory threshold findings that they argue justify the decision to pursue the death penalty against Tsarnaev, prosecutors advanced a variety of aggravating factors contributing to the decision, ranging from the vulnerability of the Boston Marathon bombing's youngest victim, to Tsarnaev's apparent lack of remorse.
Among these factors, the notice asserts: "[Tsarnaev] received asylum from the United States; obtained citizenship and enjoyed the freedoms of a United States citizen; and then betrayed his allegiance to the United States by killing and maiming people [there]."
Prosecutors further plan to prove that Tsarnaev carried out the attacks in an "especially heinous, cruel and depraved manner," after substantial planning and premeditation. They point out that he is accused of having killed and attempted to kill numerous people within the scope of a single episode.
With regard to eight-year-old Martin Richard, prosecutors assert that Tsarnaev "is responsible for the death of a victim, Martin Richard, who was particularly vulnerable due to youth."
The defendant is further accused of having encouraged others to commit acts of violence and terrorism. According to the notice, he "made statements suggesting that others would be justified in committing additional acts of violence and terrorism."
Prosecutors draw attention to Tsarnaev's alleged decision to target the Boston Marathon as well, and claim generally that he has demonstrated a lack of remorse.
On the afternoon of April 15, two explosions occurred near the finish line of the Boston Marathon. IEDs devised from pressure cookers, low explosive powder, shrapnel, adhesive, and other materials were hidden in backpacks that were then placed near metal barricades in areas packed with hundreds of spectators.
According to a related indictment, "Each explosion killed at least one person, maimed, burned and wounded scores of others, and damaged public and private property, including the streets, sidewalk, barriers, and property owned by people and businesses in the locations where the explosions occurred." The three individuals killed during the bombing were Krystle Marie Campbell, Lingzi Lu, and Martin Richard.
Tsarnaev was arrested following a dramatic manhunt, the events of which killed his brother and co-suspect Tamerlan, and claimed the life of an MIT Police Officer Sean Collier. He was charged in a criminal complaint dated April 21 with the use of a weapon of mass destruction and malicious destruction of property resulting in death.
Then on June 27, a federal grand jury returned a 30-count indictment against Dhzokhar, charging him with a plethora of charges related to the bombings and the MIT officer's death.
According to the prosecution notice filed Thursday, counts one through ten and twelve through eighteen "are such that, in the event of a conviction, a sentence of death is justified." The counts referenced in the memo include: the use of a weapon of mass destruction resulting in death (two counts), the bombing of a public place resulting in death (two counts), the malicious destruction of property resulting in injury and death (two counts), the possession and use of a firearm resulting in death (nine counts), and two counts of conspiracy.
The notice of intent adds that Tsarnaev was not a minor (under the age of 18) when the attacks occurred. In fact, he had been 19 at the time.
The prosecution further argues that Tsarnaev intentionally killed Campbell, Richard, Lu, and Officer Collier, and attributed Tsarnaev's intent as well to the serious bodily injury that had led to each of the victims' deaths. Tsarnaev is further alleged to have intentionally participated in acts resulting in death, and to have intentionally engaged in acts of violence with the knowledge that they carried a grave risk of death to people other than those carrying out the offense, constituting a reckless disregard for human life.