Banker Lebedev continues serving sentence in "mogul scuffle" case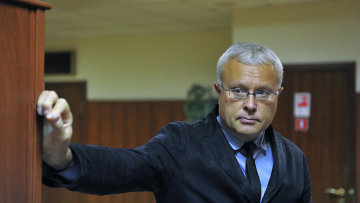 12:57 10/01/2014
TULA, January 10 (RAPSI) - Russian billionaire Alexander Lebedev sentenced to 150 hours of correctional labor for punching businessman Sergei Polonsky during the filming of an NTV talk show will continue serving his sentence in the Moscow Region, Margarita Rimar, spokesperson of the regional department of the Federal Penitentiary Service, told RIA Novosti on Friday.
The initial charges against Lebedev were made last September, more than a year after he punched Polonsky. The scuffle ensued after Polonsky accused Lebedev of spreading a rumor about a crack in the Moscow City skyscraper that his firm was building.
Lebedev has been accused of hooliganism and battery. He has not admitted his guilt and said the charges are unsubstantiated. Lebedev said he punched Polonsky during the filming of an NTV talk show to neutralize the latter's aggression.
On June 28, Polonsky appealed to the court to forgive Lebedev for punching him, according to a statement on his Facebook account. On July 2, Moscow's Ostankinsky District Court found Lebedev guilty of battering Polonsky and sentenced him to 150 hours of compulsory community service.
In late November, Lebedev began his community service in the Tula Region. He was building a playground in the village of Popovka. But later he had to be domiciled in the metropolitan area because of the exigency of business.
According to law, convicts must serve sentence where they actually live.