Defendant in Taiwanchik's US organized-crime case pleads guilty
12:51 15/11/2013
MOSCOW, November 15 (RAPSI) – Vadim Trincher, a defendant in a high-profile US criminal case targeting Russian-American organized crime, pleaded guilty Thursday to having operated an international gambling ring catering to wealthy sports betters in Russia, the US, and Ukraine, according to a report by The New York Post.
In April US officials unveiled charges against 34 alleged members and associates of two interconnected Russian-American organized criminal enterprises. Among other things, the groups were accused of having operated at least two international bookmaking organizations catering to an extraordinarily wealthy clientele based in the US, Russia, and Ukraine.
US prosecutors claimed in a statement accompanying the unveiling of the indictment that the first organization - the Taiwanchik-Trincher Organization, allegedly run by Vadim Trincher - is accused of having laundered tens of millions of dollars from Russia and Ukraine into the US via Cyprus. The second organization - the Nahmad-Trincher Organization, allegedly run by Illya Trincher - is believed to have been financed by a prestigious New York City art gallery, among other sources.
According to the Post, Vadim Trincher pleaded guilty in a federal court in New York City, and faces between 21 and 27 months in prison in accordance with a plea deal struck with federal authorities. He is reportedly expected to forfeit 13 properties as well.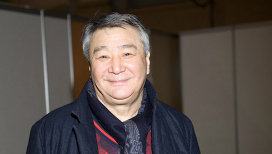 © starface.ru
Alimzhan Tokhtakhounov
The statement accompanying the indictment's unveiling boasted that among the defendants was Alimzhan Tokhtakhounov, aka Taiwanchik, who gained international fame after having been separately indicted on allegations of having engaged in official bribery during the 2002 Winter Olympics, which were hosted by Salt Lake City.
The statement claims that Tokhtakhounov "used his status... to resolve disputes with clients of the high-stakes illegal gambling operation with implicit and sometimes explicit threats of violence and economic harm," adding that he received $10 million for his service during a single two-month period.
Tokhtakhounov faces up to 90 years in prison if convicted of the charges presently pending against him as part of this indictment, which include substantive and conspiracy charges under the Racketeer Influenced and Corrupt Organizations Act (RICO), conspiracy charges relating to money laundering and extortion, and charges of operating an illegal gambling business and of unlawful internet gambling.