Opposition activist Leonid Razvozzhayev to remain in detention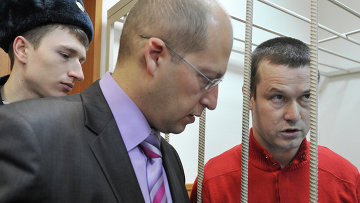 16:48 07/11/2013
MOSCOW, November 7 (RAPSI) - The Moscow City Court on Thursday upheld a previous court decision to extend the detention of opposition activist Leonid Razvozzhayev charged with organizing riots on May 6, 2012, lawyer Dmitry Agranovsky told RAPSI.
The court thus rejected an appeal filed by the lawyers who asked to replace the detention with travel restrictions or house arrest.
Razvozzhayev will remain in detention until February 6, 2014.
During the investigation, he was charged with attempting to commit a crime, Agranovsky said earlier. In June, investigators have brought finalized charges against Razvozzhayev."They accused him of organizing riots involving violence, arson, the destruction of property, and the use of fire arms, explosives and bombs. Other charges include armed resistance to representatives of authority under Part 1 of Article 212 of the Criminal Code," the lawyer said.
This article stipulates a prison term of up to 10 years. The finalized charges also include illegally crossing the state border under Part 1 of Article 322.
The mass protests took place at a Moscow protest rally on the eve of Vladimir Putin's inauguration for a third presidential term in May 2012. The rally ended in clashes between protesters and the police. Over 400 people were arrested and scores were injured when protesters briefly broke through police lines.
Razvozzhayev and other opposition figures were involved in the case concerning the planning of mass riots, which was initiated after the "Anatomy of Protest 2" film was shown on the NTV broadcasting network. The film claimed that the opposition was organizing a coup using funds from abroad and showed Left Front movement coordinator Sergei Udaltsov and his companions allegedly talking with Georgian politician Givi Targamadze, who at the time headed Georgia's Parliamentary Defense and Security Committee, and is said to have been involved in planning the "color" revolutions in Georgia and Ukraine, as well as the mass riots in Belarus.