Moscow court arrests fugitive Moscow 2012 rioter in absentia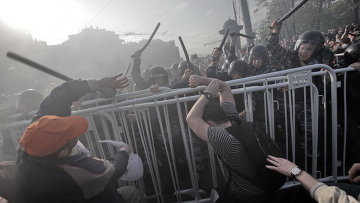 13:56 28/10/2013
MOSCOW, October 28 (RAPSI) - Moscow's Basmanny District court has issued an arrest order in absentia for the fugitive activist Anastasia Rybachenko, an individual involved in the riots in Bolotnaya Square on May 6, 2012, the court's press office told RAPSI Monday.
Rybachenko was placed on the international wanted list because she has left Russia. As previously reported, in July, she initiated consultations with lawyers in regard to obtaining asylum in Munich.
The mass protests took place at a Moscow protest rally on the eve of Vladimir Putin's inauguration for a third presidential term in May 2012. The rally ended in clashes between protesters and the police.
Over 400 people were arrested and scores were injured when protesters briefly broke through police lines.
The criminal case was initiated after the "Anatomy of Protest 2" documentary film was shown on the NTV broadcasting network. The film claimed that the opposition was organizing a coup using funds from abroad and showed Left Front movement coordinator Udaltsov and his companions allegedly talking with Georgian politician Givi Targamadze, who at the time headed Georgia's Parliamentary Defense and Security Committee, and is said to have been involved in planning the "color" revolutions in Georgia and Ukraine, as well as the mass riots in Belarus.