Tsarnaev challenges heightened incarceration restrictions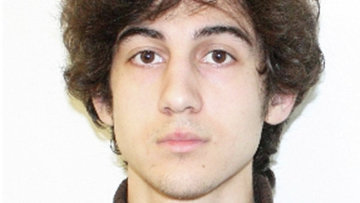 16:16 03/10/2013
BOSTON, October 3 (RAPSI, Ingrid Burke) - The defense team working with Boston Marathon bombing suspect Dzhokhar Tsarnaev filed a motion Wednesday seeking to vacate a variety of restrictions imposed against their incarcerated client.
US Attorney General Eric Holder issued a memo at the behest of US Attorney Carmen Ortiz August 27 imposing against Tsarnaev a variety of restrictions referred to as Special Administrative Measures (SAM), according to documents released alongside the defense motion Wednesday.
The memo concluded with Holder's sentiment that: "Based upon information provided to me of Tsarnaev's proclivity for violence, I find that there is a substantial risk that his communications or contacts with persons could result in death or serious bodily injury to persons. Therefore, I am requesting that you… implement SAM to restrict Tsarnaev's access to the mail, the media, the telephone, and visitors."
In the memo, Holder noted that US Attorney for the District of Massachusetts Carmen Ortiz had based her own finding of such a substantial risk on four factors: "Tsarnaev's participation in planning and executing the Boston Marathon bombings; his ensuing acts of violence and flight to avoid apprehension; his extensive obstruction of justice; and his explicit and continuing desire to incite others to engage in violent jihad."
Among the reasons included in the Attorney General's memo substantiating these findings was the assertion that that Tsarnaev and his brother Tamerlan, who was killed during a police chase in the aftermath of the bombing, "were inspired to commit the attack by Anwar al-Aulaqui, a deceased leader of al-Qaeda, and used bomb-making instructions from 'Inspire,' an al-Qaeda publication."
Notably, al-Aulaqui is one of four US citizens who the US government famously acknowledged having targeted in lethal strikes in a May 22, 2013 letter originally obtained by The New York Times. In the letter, Holder wrote to the Chairman of the US Senate Judiciary Committee: "[al-Aulaqui] was a senior operational leader of [al-Qaeda] in the Arabian Peninsula… it was not [al-Aulaqui's] words that led the [US] to attack him… Rather it was [al-Aulaqui's] actions – and, in particular, his direct personal involvement in the continued planning and execution of terrorist attacks against the US homeland – that made him a lawful target and led the [US] to take action."
Then, around April 22, Tsarnaev "reaffirmed his commitment to jihad and expressed hope that his actions would inspire others to engage in violent jihad," the August 27 memo added, noting that there had not been any indication that the defendant's actions had since changed.
The memo drew attention to several other factors associated with Tsarnaev's perceived risk as well, including the assertion that during the course of his incarceration he had – by that point at least – received "nearly one thousand pieces of unsolicited mail."
Among the restrictions imposed against Tsarnaev were several targeting his interactions with the defense team, and several targeting his communications with others. This latter category includes, among other things, restrictions on group prayer and on non-legal communications with individuals outside of his immediate family.
The motion to vacate the SAMs, filed Wednesday, asserts that these additional restrictions are unwarranted. Specifically, the document states: "Here, there is an insufficient factual basis to justify imposition of any SAMs… The SAMs as a whole, and the attorney-client provisions in particular, are therefore arbitrary, capricious, an abuse of discretion, lack basis in substantial evidence, and are otherwise not in accordance with the law."
The defense argument on the matter is based on several premises. First, it contends that the conclusion that SAMs are necessary to avoid death or bodily harm is factually unsubstantiated. Second, it contends that the SAM restrictions applicable to the defense team are not authorized.
The motion goes on to assert that the imposition of these SAMs against Tsarnaev constitute violations of the US Constitution.
Toward this end, the defense motion asserts: "Mr. Tsarnaev is entitled to the effective assistance of counsel for his defense under the Due Process Clause and the Sixth Amendment," adding that the SAMs "severely impair" the functioning of the defense team in various ways.
The defense argues as well that the SAMs violate Tsarnaev's first amendment rights, by imposing a blanket prohibition on non-legal communications with anyone other than his immediate family members. Furthermore, the motion asserts that that the restriction on group prayer infringes his right to the free exercise of religion.
The motion goes on to assert that other provisions of the SAMs are effectively punitive, arguing that he is left in "nearly total isolation," being confined to his cell except during legal visits and with extremely limited access to an outdoor enclosure. The motion goes on: "Indeed, the United Nations identifies long-term solitary confinement as a form of torture."
At about 2:49pm on April 15, two explosions occurred near the finish line of the Boston Marathon. IEDs devised from pressure cookers, low explosive powder, shrapnel, adhesive, and other materials were hidden in backpacks that were then placed near metal barricades in areas packed with hundreds of spectators.
According to a related indictment, "Each explosion killed at least one person, maimed, burned and wounded scores of others, and damaged public and private property, including the streets, sidewalk, barriers, and property owned by people and businesses in the locations where the explosions occurred."
The following four days were consumed by a dramatic and at times extremely violent manhunt for the suspects, who were identified by name on April 19 as Dzhokhar (19) and his brother Tamerlan Tsarnaev (26). The manhunt entailed the presence of thousands of law enforcement personnel from local, state, and federal agencies, and resulted in a veritable lockdown through parts of the greater Boston area.
Tamerlan was killed during a police shootout, and Dzhokhar was arrested on the evening of April 19 after having been discovered hiding in a dry-docked boat in the Boston suburb of Watertown.
He was then charged in a criminal complaint dated April 21 with the use of a weapon of mass destruction and malicious destruction of property resulting in death.
Then on June 27, a federal grand jury returned a 30-count indictment against Dhzokhar. The charges include the use of a weapon of mass destruction resulting in death and conspiracy and the bombing of a place of public use resulting in death and conspiracy among others.
According to an accompanying FBI press release, seventeen of these charges carry sentences of up to life imprisonment or the death penalty, and the rest carry sentences of life imprisonment or imprisonment for a fixed period.
At an arraignment hearing on July 10, Dzhokhar pleaded not guilty to all charges pending against him.