US airline fuel supplier indicted for Ryan International Airlines fraud scheme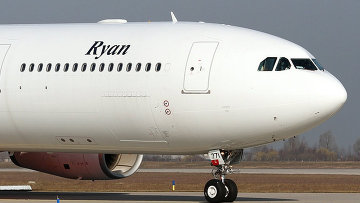 10:44 15/08/2013
MOSCOW, August 15 (RAPSI) - An airline fuel supplier and its owner have been indicted for their alleged role in a fraud scheme targeting charter airline company Ryan International Airlines, according to an official statement released by the US Department of Justice (DOJ) Wednesday.
Ryan International Airlines should not be confused with Irish budget airline Ryanair. Ryan International Airlines was an Illinois-based company that provided charter services for the US Government – including the Defense Department and the Department of Homeland Security – as well as private clients.
According to the DOJ statement, Aviation Fuel International Inc. (AFI) and Sean Wagner, its owner and operator, were indicted by a federal grand jury Tuesday based on an alleged conspiracy to defraud the airline. Wagner, who is described on AFI's website as a "[y]oung, aggressive, and energetic," individual who "would not consider doing anything else but continue his relentless pursuit of seemless [sic.] experience in aviation service," was arrested on July 19.
According to the DOJ statement, the alleged scheme resulted in kickbacks made to the airline's former vice president for ground operations Wayne Kepple. Kepple is alleged to have received upwards of $200,000 in kickbacks between December 2005 and August 2009. According to the statement, Kepple has pleaded guilty and is presently awaiting sentencing.
Assistant Attorney General in charge of the DOJ Antitrust Division Bill Baer said, "The conspirators traded contracts for kickbacks and took affirmative steps to hide their illegal scheme, including wiring payments to personal bank accounts and making secret cash payments… The division will continue to aggressively prosecute companies and individuals that seek to defraud the government and U.S. taxpayers by thwarting the competitive process."
AFI and Wagner have been charged with wire fraud, honest services fraud, and conspiracy to commit wire fraud and honest service fraud.