Strauss-Kahn to face trial over pimping charges - report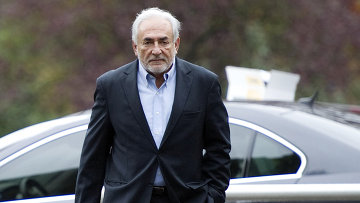 19:04 26/07/2013
MOSCOW, July 26 (RAPSI) – Former chief of the International Monetary Fund (IMF) Dominique Strauss-Kahn will face trial over pimping charges arising from an alleged prostitution scandal, France 24 reported Friday, citing a French prosecutor and his lawyer.
The report added that 12 other individuals will be tried as well over the scandal.
According to the report, the charges have emerged from allegations that a group of successful businessmen and police officials had been operating a prostitution ring in the business of supplying young women for sex parties.
In May 2012 Strauss-Kahn's attorney Henri Leclerc predicted that the case would collapse, stating, as quoted by the AFP, news agency, "There's no serious evidence to suggest that Dominique Strauss-Kahn knew that these women were paid… Certainly Dominique Strauss-Kahn has attended a certain number of parties with women, libertine parties with female friends and women who were friends of his friends … You can say what you like about that on the moral level, but that doesn't change the fact that it's not against the criminal law. They are trying to ban a sort of crime of lust. He's being attacked over his libertine behaviour."
Strauss-Kahn found closure in another recent set of sexual offense allegations in December when he reached an undisclosed settlement with a New York City hotel maid who accused him of attempting to rape her last year. The Bronx judge presiding over the case announced that details of the settlement, including the amount of any damages to be paid by Strauss-Kahn to his accuser, would not be made public.
The maid, 33-year-old Nafissatou Diallo said Strauss-Kahn forced her to perform oral sex and tried to rape her after she arrived to clean his hotel room at the Sofitel Hotel in Manhattan in May 2011. He said the encounter was consensual.
Strauss-Kahn, 63, was arrested and charged with attempted rape and other crimes, but the charges against him were dropped after New York City prosecutors said Diallo had credibility problems. He was forced to resign as head of the IMF and abandon his plans to run for president in his native France.