Opposition leader Navalny released from custody pending appeal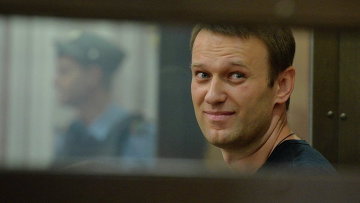 11:31 19/07/2013
MOSCOW, July 19 (RAPSI) - Opposition leader and anti-corruption campaigning blogger Alexei Navalny and his co-accused Pyotr Ofitserov who were were sentenced on Thursday, were released today by the the Leninsky District court of Kirov, satisfying a request filed by prosecutors.
Navalny was found guilty of timber embezzlement Thursday stemming from a stint spent serving as an advisor to Kirov governor Nikita Belykh between May and September 2009. According to investigators, Navalny organized the theft of over 10,000 cubic meters of timber during that period in collusion with Vyatka Timber Company Director Pyotr Ofitserov and Kirovles CEO Vyacheslav Opalyov.
He was sentenced to five years in a penal colony, and his co-accused Pyotr Ofitserov received a four-year sentence. The two were held liable to pay a one million ruble fine between them.
The prosecutors filed a request for them to be released from custody until their appeal against the verdict reaches court and is considered. The request was based on the fact of Navalny's candidacy for Moscow mayor, and the concern that he should be afforded the same rights as other candidates.
When the judge announced that Navalny and Ofitserov would be released from custody pending their appeal, the decision was met with resounding applause.
Delivering his decision, the judge referred to Moscow electoral law and the European Convention of Human Rights.
Before leaving, Navalny vowed to continue to pursue his Moscow mayoral candidacy.
The regional budget is estimated to have suffered the loss of 16 million rubles ($514,140) as a result of their alleged actions. In May, however, Kirov Governor Nikita Belykh testified to the contrary in court that he had no grounds from which to conclude that Navalny's actions as his advisor had in fact caused damage to the region's economic interests and budget. Belykh stipulated however that he could not speak on the point in his official capacity, "because we have not examined the issue."
Opalyov, who has entered into an agreement with the prosecution, received a four-year suspended sentence.
Navalny said in the interview with Dozhd TV this past April that he expected a conviction in the present case.
Then in July he submitted documents to become registered as a mayoral candidate in Moscow, which will hold snap elections on September 8. A spokesperson for the Moscow City Election Commission Commission told RAPSI on July 12 that if convicted of the Kirovles embezzlement, Navalny's name will be removed from the mayoral candidate list.
In addition to the Kirovles embezzlement case, investigators have opened three other criminal cases against Navalny, on charges of embezzlement from a political party, deceiving an international cosmetics company, and illegally conspiring to privatize a central Russia distillery.