Decision to escort opposition leader Navalny to court upheld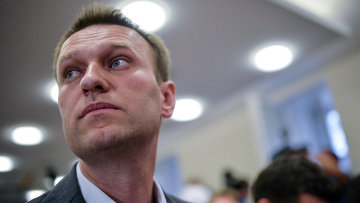 15:06 02/07/2013
MOSCOW, July 2 (RAPSI) - The Kirov Regional Court has upheld an order compelling opposition leader Alexei Navalny to appear in court, where he is being prosecuted on embezzlement charges, the blogger Tweeted on Tuesday.
The court thereby dismissed Navalny's appeal.
The Leninsky District Court in Kirov issued an order compelling Navalny to appear before the court on June 17 after he failed to show up on June 13. He explained that he had been summoned to the Investigative Committee in Moscow on the same day to give testimony on a different case against him.
The prosecution asked the judge to arrest Navalny, who has been placed under travel restrictions, because his excuse was not a valid reason for missing his hearing.
Judge Sergei Blinov agreed with this but issued an order compelling opposition leader to appear in court rather than an arrest warrant. Navalny came to court on June 17 of his own accord.
According to the investigators, Navalny organized the theft of over 10,000 cubic meters of timber from the Kirovles company while serving as a voluntary adviser to the Kirov Region governor.
The timber was allegedly stolen between May and September 2009 in collusion with Pyotr Ofitserov, director of the Vyatka Timber Company, and Kirovles CEO Vyacheslav Opalyov. The regional budget shortfall resulting from the transaction has been estimated at 16 million rubles ($510,906).
If convicted, Navalny faces up to 10 years in prison. He will also be ineligible for any kind of civil service, even if he only receives probation. Opalyov, who made an agreement with the prosecution, received a four-year suspended sentence.